Bolivar Taking Two to the Final Four
Bolivar's Bryce Krueger (L) looks for an open teammate, as Brandon Emmert (R) looks on in the Liberators' win over Raytown South in the Class 4 state Sectional round. (Photo courtesy of Bolivar High School)
It is a really big deal when a school sends a team to the Final Four. When a school sends both its boys and girls basketball teams to Columbia then, it is a really, really big deal. Such is the case for Bolivar, as both the Liberators and Lady Liberators have advanced to the Class 4 Show Me Showdown. It marks the first time in school history that both teams will end their season in Columbia in the same year.
The Liberators (26-4) will face St. Charles (26-4) in one boys semifinal at 5:10 p.m. Thursday at Mizzou Arena, while the Lady Liberators (26-4) will play two-time defending state champion Incarnate Word (27-2) in one girls semifinal at 8:30 p.m.
"It feels great," said Lady Liberator head coach Darin Archer. "I'm glad for our girls. Their hard work has paid off. This is a goal that they set at the beginning of the season. We told our girls that we wanted our goals to be difficult but attainable, and I feel like that they've been really focused on this throughout the whole year. I'm awfully proud of them."
"We're excited, but we just wanna keep trying to get better," said boys head coach Robby Hoegh. "That's been our focus the whole year. That'll continue to be our focus. The last thing we wanna do is quote-unquote 'stop and take a big breath.' We wanna keep trying to push to get as well-prepared as we possibly can, and go up there and try to show what we're capable of doing."
For the players, the thought of playing in the Final Four is just now starting to sink in for a few, while others are still coming to terms with the fact that they will be tipping off in Mizzou Arena later this week.
"It's crazy!" said Conley Garrison, the Liberators' sophomore point guard. "That's been our goal from day one was to make it to Columbia. It's great that the girls get to do it, too. We just have had some impressive wins and it's great to be rolling this time of year."
"It's beginning to sink in," said Madison Campbell, one of the Lady Liberators' four seniors. "We're starting to get our minds wrapped around it. I think everybody's still just really excited. It's a very humbling experience. I think it's really pulled the community in and gotten everybody real excited."
"It's kind of surreal," said the Liberators' John Michael Cates. "Since we were in middle school, you just dream about getting to State. That's been a major goal for our team. On Saturday after the game, it was just unreal. It's still unreal. I can't believe we're playing this deep into March. I'm usually on the baseball field by now, but it's been such a journey and I love playing with these guys. It's been a ton of fun. I'm excited for the journey and I love my teammates."
"It's just weird to think about something that you've dreamed about for so long, and it's happening now," said junior Meleah Francka, who starts at guard for the Lady Liberators. "The support we have gotten from the community has just been amazing these past few weeks. And for the boys to be going too just makes it even better. Not many big schools get to do that. You see it a lot with the small schools, but not the big schools. It's really awesome."
"It actually just sunk in for me," said sophomore big man Brandon Emmert, the Liberators' 6-foot-6 bruiser in the paint. "I had that 'goose bumps' moment where I realized that we did this…that we're actually going to the Final Four. After the Blue & Gold, it was like wake-up call for us. We got more sharp, more focused, and it's just an awesome feeling."
"It makes it even bigger for our school that we've got both teams going," said junior guard Bryce Krueger. "It's a huge deal for our community, I think. It's been the talk for 48 hours now that both teams are going and it's never happened for Bolivar."
"It made history," said Brandon Ball, the Liberators' only senior. "It's never happened before, so it's a big deal around here."
"It hasn't really sunk in yet, but we've been working hard all year, every day in practice," said Johnny Scott, one of the Liberators' starting guards. "We're just happy to be here. It's been our dream the whole year. Honestly, at the beginning of the year starting off 1-3, I was kind of upset about it, but we've just been working hard and we've made it."
With district restructuring, both Bolivar teams were shipped north to Warrensburg for District 13 action, where both teams earned district championships. Next up was a "business trip" to the Kansas City area for the Sectional round at Blue Springs South High School. The Liberators punched their ticket to the state quarterfinals first with a 64-52 victory over Raytown South. The Lady Liberators followed suit with a 56-40 win over Grain Valley.
The Bolivar contingent returned to the Kansas City area again for the state quarterfinals, with a doubleheader at Liberty North High School. The Liberators dispatched a tough and physical Kearney team 52-44 to earn a trip to State. The Lady Liberators had to play an extra four minutes against perennial power Benton (St. Joseph) before earning a 44-35 overtime win.
In the boys game, the Bulldogs tried to double down on Emmert to start the game. Junior Case Jones destroyed that strategy by burying three three-pointers in the first quarter. Leading by four at halftime, the Liberators got a steal and lay-up from Krueger and a long rebound and run out from Conley Garrison to double the lead to eight in the first minute of the third quarter. Although Kearney hung tough and stayed in the game, the Liberators hit their free throws down the stretch to get the victory.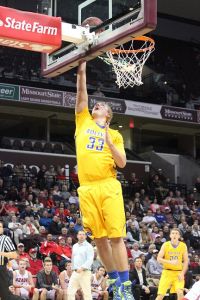 "Case is a really good shooter," said Emmert. "If they're gonna sag off of him, then I'm just gonna keep throwing it to him, because he's just gonna keep shooting and making them pay for it until they finally start guarding him. And when that happens, we'll just demolish them in the paint. I'm just proud of how well Case played in that game. He's usually the guy that nobody notices, because he's not putting stats in the stat sheet, but he does so much for this team that even he doesn't realize."
"Kearney is a very similar team," said Hoegh. "They have a very similar school as we do. They're hard, tough-nosed kids that know how to execute. They play the right way. They had a game plan of trying to double Brandon with Case Jones' defender and Case Jones came out and hit three threes in the first quarter. Teams will try different things, and it's not because Case isn't a capable shooter, but you've gotta pick something. But Case has been doing that all year."
"Kearney was a really good team," said Garrison. "They were tough and physical. They were really hard to guard defensively. I thought Case Jones played so well in that game. He'll do whatever he has to do to win, and I just thought everybody played well and played hard."
"In the first half, we relied a lot on them missing shots," said Cates. "In the second half, we kind of settled in. We had a great second half. We shared the ball really well. Our defense was just outstanding in the second half."
The Liberators' calling card all season has been defense, and Bolivar clamped down on the Bulldogs in the second half to pull away. The physical nature of the contest was evident afterwards, though.
"I was definitely sore afterwards," said Emmert, who also plays tight end for the Liberators on the gridiron. "Their big guys were great. They played great defense. They have to have a great football team, because their #44 (Hunter Doan) and #45 (Ryan Hoffman) were really pushing on me in the paint. I'm just happy that I got what I got. Even though I didn't play as well as I normally play, I'm just glad that my team stepped up for me."
"It was a tough game all the way around," said Jones. "A lot of us play football, so we were ready for the physicality. We fought through all that fouling and stuff. We came together as a team and stepped it up a little bit. We wanted it more."
The Liberator victory had the blue and gold-clad faithful in a frenzy, as the BHS Superfans and friends had made the trek to Liberty for the quarterfinals, as did a good portion of Polk County.
"It's fun, and it's fun to see all the blue and gold in the stands, and to see the community rally and support around them," said Hoegh of the crowd support. "The girls have a fantastic team, and it's fun to be a part of it. It's community, and it's encouraging to see so many people that have a lot of great wishes for your success and want to see you do well."
The Lady Liberators were faced with the task of beating a Benton team that seemingly is playing in a state quarterfinal game on an annual basis. In fact, the Lady Cardinals advanced to the Final Four a year ago, finishing in fourth-place after a loss to fellow COC-Small member Marshfield in the third-place game.
Benton, which entered the game with an 18-game winning streak, took an early lead and led for the majority of the game, as Bolivar struggled to hit shots. However, Benton's largest lead was a six-point advantage in the first half before leading 23-20 at halftime. Benton led 29-25 at the end of the third quarter, as points were hard to come by.
The Lady Liberators increased their defensive intensity and completely shut down the Lady Cardinal attack in the final period and overtime. In fact, Benton scored just six points in the fourth quarter and overtime combined.
Bolivar used a 6-0 run in the fourth quarter to take its first lead since an early 4-3 advantage with 2:52 to play. Benton's Daejah Bernard sank a couple of free throws late to send the game to overtime tied at 33 apiece.
"It's four minutes to Columbia," recalled senior Randi Hancock of the message Coach Archer conveyed in the huddle prior to the overtime tip. "You girls have worked so hard this season. This is what you wanted. Play smart. We don't need anything rushed. Just take your time, and that's what we did. We were really calm."
"We came out kind of just scared, kind of like, 'oh my God, we're in the quarterfinals,'" said junior Kaylie Rothdiener. "But we finally just settled down and played and it was fine then. Before overtime, Coach just told us, 'It's a new ballgame. The score is zero-zero, so just go out and win this quarter and you'll win the game.'"
The free throws that had eluded the Lady Liberators throughout the game began to fall in the extra session. Bolivar sank 11-of-12 from the charity stripe to pull away for the hard fought 44-35 victory. All of Bolivar's points in overtime came from the foul line.
"Normally, we're a very good free throw shooting team," said Archer. "Heading into overtime, we were shooting about 40 percent from the free throw line. We had some opportunities to put it away in regulation and didn't get the job done. Our girls really buckled down on defense. We gave up 12 points in the second half and overtime. I really felt like it started with our defense. We gave up just two points in overtime, which was key. And we were able to hit our free throws in overtime, which allowed us to kind of stretch out a lead."
"When we finally hit our free throws at the end of the game, that's what got us the win," said senior Mary Beth Payne. "It was an example of how free throws can definitely win or lose a game for you."
"It was definitely an exciting game," said Campbell. "I felt like we kept our cool throughout the game, which was good for us. We didn't push ourselves or push the ball too much. We didn't turn the ball over. We didn't get out there and try and run with them. We took our time. That helped us at the end of the game."
The Lady Liberator defense was stifling at times, as Benton struggled to score throughout the game, but especially in the second half and overtime. Rothdiener played a standout game defensively, effectively eliminating Benton's All-State guard Mallory McAndrews from the game. Rothdiener held McAndrews, who entered the game averaging 17 points per game, to just six in the state quarterfinals.
"We kind of came out a little timid, but in the second half we got going and picked it up," said Francka. "We picked up our defense, and in the end we finally starting making our free throws."
The Liberators will be returning to the Final Four for the first time in 55 years. Coached by the legendary Bob Brown, Bolivar won the 1960 Class M state championship. The Liberators have not returned to Columbia since.
"It kind of surprises me that Bolivar has not been since then," said Krueger of the 55-year hiatus. "There have been lots of great players through here, but it's an honor to get to represent the boys in the Final Four again now."
The Lady Liberators' Final Four drought is much smaller. In fact, coached by the late Gary Keeling and led by Casey Garrison and company, the Lady Liberators played in two-straight Class 4 Final Fours in 2007 and 2008, winning the 2008 state championship. The girls on this year's team were in elementary school during that two-year run.
"I think it had a huge impact on them," said Archer of his team and the Lady Liberators' last visit to the Final Four. "They got to experience from the stands what that's like. For them to now be able to do that, hopefully we've got some more fourth and fifth graders that will be doing the same this week when we go to Columbia. But I think it had a huge impact. That's the kind of impact that high school kids don't realize they have at times is the positive influence they can have on a younger kid."
"It's definitely a big deal," said Hancock of playing in a Final Four after watching Bolivar win a state title as a fifth-grader. "When I was in fifth grade, I always looked up to those girls, and now there's younger kids looking up to us now. It's just a good experience for us."
"I got a text from a friend that has moved away that I had gone to watch the Final Four with when Casey Garrison was there," said Rothdiener. "It said 'Remember the little girls that were dreaming that one day we'd eventually be there and now that dream's coming true.' It's great."
"Well I actually helped coach their girls when they were in fourth grade with (Hillcrest Lady Hornets' head coach) Jeni Hopkins, who just so happens to be going to the Final Four as well," said Casey Garrison, who went on to enjoy a standout career as a Missouri State Lady Bear. "I'm super excited for these girls and glad that they can experience the Final Four. It really is a dream as a young girl and such an accomplishment when you make it there."
Casey Garrison has ties to the Liberators, as well, with younger brother Conley running the show from his point guard spot. Conley is the last in a long line of hoops-playing Garrison siblings. Older sister Carie Garrison helped lead dominant Marshfield teams to four-straight state championships in the early 1990's.
"I am so happy for Conley and the rest of the Liberators," said Casey. "As a family, us girls give the boys a hard time because there are five state championships within the girls (Carie with four, myself with one), so I think it is awesome that he gets to have this experience, especially as a sophomore. I talked to him a little bit after the quarterfinal game, but if he'll let me, I'll definitely give him more advice."
Both the Liberators and Lady Liberators have had the Final Four on their minds all season. Both teams also can point to particular points in the season in which the dream of playing in Columbia became a very real possibility, though the "eye opener" for the Liberators was pretty much the same for all of the team—a runner-up finish at the Blue & Gold Tournament the week after Christmas.
Bolivar had not won a Blue & Gold title since 1997, and had not even played for a championship in a decade. So the Liberators' run through the annual post-Christmas hoop extravaganza was a big confidence booster for the team, even despite the team's 59-54 loss to top-seeded Ozark in the Gold Division final.
"When we got to the championship of the Blue & Gold, I thought we were pretty serious contenders," said Scott. "After that game, we haven't lost since. We had a big chip on our shoulders, I guess you could say. We've just been rolling from there."
"After the Blue & Gold championship, our practices started getting a lot more focused," said Cates. "We were more dialed in with each other."
"We noticed that we could do what we had planned to do in the beginning," said Emmert. "We started off the season 1-3 and a lot of people started doubting us, but we just stuck together. We never gave up on each other. We just kept building our team chemistry. We didn't care about who scored or who filled the stat sheet. All we care about is that we're playing well as a team, and that's all that matters."
"Right after the Blue & Gold, I feel like our practices stepped up in intensity more and more each day," said Jones. "At the beginning of the season, we started out 0-and-3 and nobody would have expected us to be where we are now, but we wanted to prove them wrong."
A Final Four berth was the last thing on people's minds after the Liberators opened the season with two-straight losses at the Republic Tournament to Rolla and Logan-Rogersville. Bolivar then beat Carl Junction before losing a 68-66 thriller to Hillcrest in the home opener. Four games into the season and the youthful Liberators were 1-3. It would have been easy to have packed it in, but Bolivar stayed committed and made a run at the Blue & Gold. Bolivar has not lost since the loss to Ozark, and will carry a 20-game winning streak into Mizzou Arena on Thursday.
"The first time we played Rogersville (on Dec. 5), our defense was so bad in the first half," said Conley Garrison. "We turned it on in the second half, but the next day at practice we really worked on defense and I really think our defensive pressure—and our defense overall—has been a lot better since then."
"We started off slow, but we knew if we stuck with the process, we'd be all right," said Krueger. "We knew we were pretty good, but we weren't going to set a goal of 'if we don't make it to the Final Four we had a bad season.' Our goal is to get better every day, and so far it's led us to the Final Four. Hopefully, we can win it all."
"I think we've been fairly close the last three years, to be honest," said Hoegh. "Last year, we had five or six games that were decided by four points or less, and we happened to lose in the (district) semifinals to Marshfield, who we beat two previous times. They went on to win the district and narrowly got beat by (St. Francis) Borgia. We've felt for a long time like we had a group that was capable. It's just you have to peak at the right time, you have to have the right culture put in place, and people buy in to putting the team first. Really, we've had a good culture here the last three years.
"These kids are exceptional competitors," added Hoegh. "They also can really adapt to multiple styles of games, which is one of the reasons that has allowed them to win as many games as they have, because they can win in a multitude of ways. We've always felt like we had opportunities."
For the Lady Liberators, talk of a Final Four run has been going on since the offseason. The Lady Liberators, who spent the majority of the season state-ranked, entered the season ranked #2 behind Incarnate Word, which ironically will be Bolivar's opponent Thursday night.
"Honestly, after the first week of practice, the attitude that these girls had coming in this year was remarkable," said Archer. "There was a lot of disappointment last year. We got put out by a very good Marshfield team who went on and finished third in the state. Our girls were determined to be that team this year. The work ethic that they've shown, the time that they've put in. I didn't know we would go this far, but I knew we had a special group that could have a special year."
The Lady Liberators started the season strong, winning the Branson Tournament to begin the year. Bolivar entered the Pink & White Lady Classic the week after Christmas sporting an unblemished 7-0 record. The Lady Liberators promptly dispatched a talented Strafford squad before suffering their first defeat to a speedy and athletic Ft. Smith-Northside team from Arkansas.
"I felt like we really started off the season really strong," said Payne. "The way we were looking, I felt like there was no reason we couldn't get to where we are now."
There were a couple of concerning losses in January, first at home on Jan. 15 to a Stockton team that Bolivar had beaten by 22 points two weeks earlier in the Pink & White. The Lady Liberators then lost to rival Buffalo by ten in the semifinals of the 22nd-Annual Gary Keeling Lady Liberator Tournament.
The Lady Liberators beat a very good Plato team in a 49-48 nail biter at the Camdenton Shootout to close out January, and racked up some big wins in February. The first was a 75-67 win at Buffalo to avenge the earlier loss. However, Bolivar followed that up with a loss at up-and-coming Springfield Catholic, which cost the Lady Liberators an outright COC-Small championship.
Properly motivated and refocused following the loss to the Lady Irish, the Lady Liberators finished the regular season with an impressive three-games-in-four-days stretch. The first was a 54-53 win at Camdenton, which would go on to win a Class 5 district title. Bolivar then beat Reeds Spring 84-37 to secure a conference co-championship with Catholic, before winning at perennial Class 5 powerhouse Kickapoo 64-57 in the regular season finale.
"The win over Kickapoo in the last game of the regular season was a big win for us," said Hancock. "It really got us geared up for districts and the state playoffs."
The Liberators feature a speedy and athletic lineup that features essentially four guards and the 6-foot-6 Emmert in the paint. Emmert averages a team-high 18.7 points and 8.3 rebounds per game for the Liberators, and shoots over 65 percent from the field. Krueger leads the backcourt contingent at 15.3 points per game, followed by Garrison (10.6 ppg, 3.4 apg) and Scott, who averages 10.4 points, a team-high 4.2 assists per game, and shoots 40 percent from behind the three-point arc. Jones is the fifth starter, and impacts the game in many different ways that do not show up on a stat sheet. Cates, Payton Guiot and Ball also make key contributions.
"It's more than the starting five, it's everybody," said Hoegh. "The great thing about this group is they really could care less about recognition. They don't play for ego or self-adulation. It's all about the team and everybody's role that they not only excel in, but they willingly do it. We could take several kids off of our team and put them on various others and they'd score way more points, but these guys play team basketball on both ends of the floor. All they really care about is the final score. As cliché as all that sounds, there's a reason that everybody always says that stuff. The reason is because those are the things that win. That's what these guys do. There's not one piece more important than the other.
"Everybody wants to try to pinpoint this guy or that guy, and it's fun to speculate and to think about that stuff, but as a coach what I'm most proud of is it's everybody," added Hoegh. "We've got one of the best benches in Southwest Missouri and they've been that way all year. I go to the Final Four every year and last year, I was dying for a story on the Republic seniors that never saw the floor. But every time I watched Republic play during their two-year run, and I looked at the bench, those seniors that never saw the floor were just active, and engaged and encouraging, and I know (Republic head coach) Trevyor (Fisher) well and I know those kids operated scout team every day in practice. That's huge."
"I'm just glad to be a part of this team," said Ball, whose motto of "Mullet Power" is matched by his flowing locks. "It's going to be great. I'm the only senior. They don't always look to me, but I keep practice in line and all that stuff."
"Some people think that Brandon Ball is not a big piece for us, but he contributes just as much as any of us do," said Krueger. "He's a leader. The dude's a winner…that's all I can say about him. He's a great teammate."
Emmert knows that his role as the team's inside force means that he no longer can hide in the shadows of any upperclassmen, as he did as a freshman a year ago. "Last year as a freshman, I was more of a role player and I didn't have to step up as much," he said. "On this team, though, I feel I have to step up and, not necessarily score, but just be a presence more. We've really come together. My teammates do a great job of feeding me in the paint, and I feel like I return the favor and give them looks at threes. It's just awesome being on a team where everybody can shoot no matter what."
From the bench to the backcourt to the paint, every Liberator has a role on this team. "We're a giant puzzle," said Krueger. "Every player is a piece that fits together perfectly. We're not the best players out there, but we all play our roles as good as we can and it's worked for us so far. We like to play fast, but we play smart, too. If a team slows us down, then we're gonna find a way to win. We're going to do whatever it takes to figure out a way to win."
Jones provided some unexpected scoring punch in the state quarterfinal win, but it's the soft-spoken junior's defense that has earned his teammates' respect. "My role is more defensive and energy," said Jones. "I may have had a good game this last game, but normally Conley Garrison is hitting bigger shots. Instead of me throwing him the 'one-more,' it was him throwing me the 'one-more' this last game."
"It's ridiculous what our chemistry is like," said Cates. "We've been playing together since we were little. We just truly love playing together."
It is amazing what a team can accomplish when no one player is more important than another, or desirous of any accolades. "Before freshmen were eligible, John Wooden said 'we're only going to play seven guys here,'" said Hoegh. "He always said 'It takes ten hands to score,' but he actually changed that and said, 'It really takes more than ten hands to score.' It takes the guys who are not even on the floor. These guys have adopted that and these guys have embraced each other. They really fill each other up with a lot of positive reinforcement. On the other side of that, they are one of the most honest groups with each other that I've ever had. And that's huge, because in communication, if you're worried about fracturing a relationship with one another by being honest, that doesn't work. And these guys are good enough friends and care enough about each other, and even at such a young age, for a team to show that emotional maturity is pretty neat to see."
Of course, although he would never take any credit, Hoegh (and assistant coach Colt Blair) have put their team in positions to win. "Coach Hoegh has done a great job with this team," said Jones. "Coach Blair also does a great job. Coach Hoegh and Coach Blair always put the team in the best position with play calls and whatever they decide to have us do in the game."
The Lady Liberators generally go about seven-deep, with the starting five carrying the bulk of the load. Campbell, a six-foot senior post player, leads the team in scoring at 13 points per game, and also grabs a team-high 9.1 rebounds per outing. "Madison Campbell has had a fantastic year," said Archer. "She's really had a good tournament for us. She has been unstoppable at times no matter who we've played. We knew she had that in her throughout the whole year. I'm glad it's finally showing up."
Fellow senior Hancock is the team's steady point guard, and averages 11.4 points and 5.7 assists per game. Hancock also has a very high basketball IQ, which allows her to be a coach on the floor. "Randi Hancock has been our glue throughout the year," said Archer. "I can't say enough good things about her. She just runs the show. She's an extension of me out on the court, and has done a great job leadership-wise."
The third senior starter is Payne, who averages 7.7 points and 8.2 rebounds for the Lady Liberators. "Mary Beth Payne has been excellent, excellent on the boards for us," said Archer. "Her stats don't show it, but she leads to a lot of our scores with a defensive rebound, getting outlets and going. It starts on the defensive end for us, and she's bought in. She's just done an excellent job for us."
A pair of juniors, Rothdiener and Francka, are the other two starters. Rothdiener averages 12.2 points per game, while Francka averages 8.8 points per contest. Francka is also a lethal three-point shooter, and averages close to 40 percent from deep. Junior Aleena Derossett (team high 41% 3FG) and freshman Michelle Gabani have made key contributions off the bench for the Lady Liberators.
"Meleah Francka, a first-year starter, has done a great job, especially here in this stretch run," said Archer. "She's really shooting the three well, and that's been key to keep defenses from keying in on our inside people. Kaylie Rothdiener has had some great games as well for us. She did a great job defensively, I felt like, on the former All-State player for Benton (Mallory McAndrews). She held her to just six points in the game, and she averages 17. Gabani and DeRossett both come in off the bench and just do a great job for us in what we need for them to do. I'm awfully pleased with our girls and the contributions that everybody's made for us this year."
A key to the Lady Liberators' success has been their team chemistry. It is not uncommon to see the team laughing and giggling around a Bolivar restaurant table on one of their regular "team bonding nights," or TBN's for short.
"You can't be a team if you're not close," said Payne. "We're like sisters. We've been together since first grade, and this is something that we've all wanted to do since we started playing together."
"We try to do team bonding nights to bring us closer together, not only on the court but off the court, too," said Hancock. "We're also very tight off the court."
"We have a lot of team bonding," said Rothdiener. "We'll have a lot of dinners or we'll go to someone's house. We'll eat and play games. We've done a lot of that since my freshman year. We've always just done a lot of TBN's."
That bonding time has brought the girls closer, and it has also resulted in better play on the court. "It really helps us know each other on the court," said Rothdiener. "We know how each other are going to react to a call or maybe what we need to say to someone if they're down, and what not to say. It just really helps."
"As close as we are, whenever you have that, it just helps so much on the floor, because you know they're gonna be there to have your back no matter what," said Francka.
When you reach a Final Four, you can rest assured that you will be facing a quality opponent. That is certainly the case for the Liberators, who will face a St. Charles team that spent a good portion of the season sitting atop the Class 4 state rankings. The Pirates feature one of the top guard combos in the state in All-Stater Casey Teson (20.7 ppg, 51% FG, 41% 3FG) and his running mate, Chase Morfeld (14.1 ppg). Brice Wiggs, a 6-foot-5 senior who averages eight points and 6.3 rebounds per game, provides a low post threat for the Pirates. Josh Roglon, Raheem Alexander and Artie Day also make key contributions.
"They've got two really good guards," said Hoegh. "Teson puts up some pretty amazing shots. He's a tremendous shot-maker. Morfeld is one of the better point guards that we've seen. They've got some post play and they're gonna try to press us at various times. We're one of the better passing teams in the area. There'll be a lot of 3-on-2 opportunities, so I think if we can do a good job on those types of things, get to 50-50 balls like we have been, and just compete really hard. It's really about doing what you're capable of controlling, which there's really only three things you can ever control in a game, and that's having the right kind of attitude, it's playing as hard as you possibly can, and it's trying to be the best teammate you can be. If you do those three things, a lot of times you're in a great position. We have to know what their capabilities are. We have to try to take away the opponent's strength, but in the end, you have to control those three things to even get to talk about the other stuff."
The Liberator players are expecting a battle from St. Charles, and know they have a quality opponent awaiting them in Columbia. "I expect a hard fought game," said Jones. "They are definitely not a team to overlook. This is going to be one of our tougher games, but I think if stay together we can overcome it."
"I watched a little bit of film on them," said Conley Garrison. "They look pretty tough, but every team in the Final Four is good. I don't know who is guarding who yet, but I'm excited to play and I'm ready to make a run at a state title."
"They're in the Final Four, we're in the Final Four," said Scott. "The records go out the window."
"They're good, but every team we're playing now is going to be good, so we expect that," said Krueger. "We're just going to go out and give them our best shot."
"I expect a hard fought game," said Emmert. "I'm really excited to get the chance to play in this game. St. Charles is a great team. They were ranked #1 in the state for a long time. I just want to come out and get the 'W,' because I want to show people that Bolivar is not just a football town, but a basketball town, too."
The Lady Liberators' reward for advancing to the Final Four is a date with the UConn of Missouri high school girls basketball in two-time defending state champion Incarnate Word Academy. The Red Knights own a 74-game winning streak against in-state opponents.
Ironically, the Red Knights are led by a UConn signee in All-Everything 6-foot-1 senior Napheesa Collier, who is averaging 26.5 points and 12.8 rebounds per game and shooting a ridiculous 70 percent from the field. Collier posted a triple double (31 points, 10 rebounds, 10 steals) in the Red Knights' 69-30 demolition of St. Charles West in the state quarterfinals. Six-foot junior Abbey Hoff averages 11.7 points per contest for IWA. Sonja Morris, Grace Fortmann, and Naomi Johnson also are key contributors for the Red Knights, but make no mistake, Collier is Incarnate Word's go-to scorer and leader.
"At the beginning of the season, our girls were asking about Incarnate Word and I told the girls, 'the only thing we have to worry about is that if we've got a chance to play 'em this year then we've done something pretty special,'" said Archer. "So we've got that opportunity. We're gonna go out and play. At this point in time, you gotta go with what got you to this point. They are awfully talented. They've got a major D-I recruit in Napheesa Collier. We're gonna have our hands full, but at the same time we're gonna go out and play them and approach it like it's any other game."
"Any team can get beaten on any given day," said Campbell. "Since the very beginning of the season, they have definitely been on our mind. This has been our main goal. We're going to give it our all."
"Just getting the opportunity to play them is big for us," added Hancock.
"I think we just need to come out and play our game and whatever happens is gonna happen," said Francka. "We need to control what we can control and make the best of it."
"We just need to play like we have nothing to lose," said Rothdiener. "Play hard, have fun, and give it all we have."
Bolivar will not be the only Southwest Missouri school taking a couple of teams to Columbia, as Hillcrest will also be there with both its boys and girls teams. The fact that two Class 4 schools from Southwest Missouri have taken a pair of teams to the Final Four this year says a lot about the quality of basketball being played in this part of the state.
"Southwest Missouri basketball is good because the area really enjoys watching it, and kids grow up watching it," said Hoegh. "They enjoy playing the game. There's no question Southwest Missouri basketball is good and we're proud to be representing Southwest Missouri and the Bolivar community. It's a huge honor and we don't take that lightly. We just want to stay true to who we are all throughout this. If you do that, you really can't lose, even if the scoreboard says otherwise. But make no mistake, we're going up there to put ourselves in the best possible position to win."
"The basketball is great around here," said Scott. "We played them (Hillcrest) earlier in the year. I was surprised they got past Rolla (in the state quarterfinals), but that's a big win for them. That's awesome. Basketball around here's great."
The excitement is building in Bolivar this week, as both the boys and girls basketball teams make preparations for another "business trip." History has been made, but the final chapter has not yet been written. A talented and humble group of student-athletes are about to experience what could be a once-in-a-lifetime opportunity.
"It's great for the school," said Archer. "It's great for the community. This community is really good about rallying around their sports teams. These aren't just good basketball players. They're great kids off the basketball court, and it's nice to see good kids get rewarded for hard work and determination and for setting goals and attaining those goals."
"I think it's awesome that both teams are advancing to State," said Casey Garrison, who knows a thing or two about playing in a Final Four. "This is an awesome opportunity for the players, fans, and community."
"For both teams to be going to the Final Four, it's a really big deal," said Jones. "We at least wanted one of us to go, but for both of us to go, it's an even bigger deal. Our community has been behind both teams all the way, so I think it's a huge deal for Bolivar."
It will be a new experience for all of the players, coaches and fans, many of whom have been dreaming about this moment for a long time. "I've been there one time," said Krueger of Mizzou Arena. "I watched Mizzou play a long time ago. I've always wanted to go to State, to go to Columbia, so I'm pumped for it."
How 'bout that Blue Collar-Gold Swagger? #BCGS