Branson Heat
Branson's Mike Hampton hurls a pitch to the plate in the Pirate's district semifinal game against Ozark. (Photo Finish)
After posting some gaudy stats and garnering numerous postseason honors in 2010, the bar was set pretty high entering the 2011 baseball season for Branson senior pitcher Mike Compton, a flame throwing strikeout machine.
Compton posted an 8-1 record and a ridiculous 0.93 ERA on the mound in 2010, while striking out 80 batters in just 60 innings of work. For his efforts, Compton was named 1st-Team All-State, as well as the Central Ozarks Conference Large Division Player of the Year.
Perhaps just to show everyone that last season's numbers were not a fluke, Compton started the 2011 campaign in typical dominating fashion. The powerful right hander tossed a perfect game in the season opener, a 1-0 win over Carl Junction to open the Lead Off Tournament. Compton struck out 14 Bulldog batters, including seven of the first eight he faced.
Compton has been pounding the strike zone since he first entered Branson's halls, when he became one of few freshmen to play for the varsity in head coach Steve Lael's 24 years at the helm of the Pirates' baseball program.
"He pitched well for us as a freshman," said Lael, who retired at the end of this season after winning 407 games in his 24 years as Branson's coach. "I could tell at that time that he was going to be special. He wasn't fazed by anything. He doesn't get rattled on the mound."
"He's a tremendous competitor and a gifted athlete," added Lael. "He's always competing. He throws nothing but strikes on the mound. He pounds the strike zone. He's an outstanding leader, and also has great character." Compton, who evolved from more of a finesse pitcher into a straight power pitcher prior to his junior season, has a repertoire of pitches that includes a fastball that reaches into the low 90s, as well as a changeup, curve and slider.
Compton arrived in Branson prior to entering seventh grade after moving from St. Petersburg, Fla., here he had lived most of his life. "It was tough at first and a big change," said Compton of the move. "It was an adjustment I had to make, but it was a great move."
The 6-foot-1 190-pound right hander will be returning to the Sunshine State in the fall, though, after signing a Nation Letter of Intent during the early signing period in November to play collegiately for perennial powerhouse Florida State. After Compton attended a weeklong showcase event last summer in Tallahassee, the FSU coaching staff offered him a scholarship. The signing of the NLI made it official, but Compton had been verbally committed to Florida State since his official visit to the school in September.
"They have a great baseball program, and it was an excellent school for my major (Law)," said Compton of FSU. "Playing at Florida State will help me thrive and challenge me to take my game up a notch. It's a winning program, which was also important to me. It's a great atmosphere and a great coaching staff."
Although he is committed to Florida State, there is a possibility that Compton will forego the college route if he is drafted high enough in the Major League Baseball draft June 6-8. "It (the draft) is definitely in the back of my mind," said Compton. "But I really want to go to college. Hopefully, I can keep improving in college and my draft stock will keep going up. Missing college is not something I will be willing to do, unless I would go in the top 10 (rounds) or something."
Compton loves to play baseball and has played as much as the weather would allow in the past few years, with a side effect being that he was noticed by college recruiters and pro scouts. He played in a summer league in Florida the past two summers, and has attended as many showcase events and baseball camps that his schedule would allow, including the showcase event at Florida State last summer that led to his scholarship offer.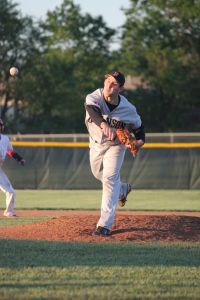 It goes without saying that Compton's parents, Mike and Jannine, are very proud of their son. Mike and Jannine also have an older son who will be graduating from Florida International University soon. "He is a very mature, focused young man—on and off the field," said Jannine of Mike. "What you see is what you get. He is very down-to-earth and humble." Compton's father is also very proud of his son. "I'm proud of my boys," he said. "I'd feel the same way even if he wasn't a baseball player and heading off to college with a scholarship. No matter if he hits a homerun or strikes out, I'm still proud of him"
Compton's Branson teammates appreciate his talents and friendship. "We're lucky to have him here," said fellow senior pitcher Taylor Tankersley." "He has taught me to hit your spots and throw lots of strikes." Tankersley described Compton as "one of the quietest guys I know," and added that Compton is not the best driver around, citing a couple of fender benders as proof. Paul Stevens, the Pirates' senior right fielder, likes to argue sports with Compton. "He's one of the best I've ever seen," said Stevens of Compton's pitching prowess. "As the team's right fielder, I know I'm going to get a lot of action that day. You have to be on your toes when he's pitching."
In Compton's first trip back to the mound following the perfect game, he struck out 13 batters in six innings of work to pick up the win in Branson's 6-2 victory over state-ranked Logan-Rogersville in the final game of the Lead Off Tournament. Compton tossed a one-hitter in his third start, a 5-1 victory over Harrison in which he registered another 16 strikeouts. Compton ran his record to 4-0 for the season in a 12-2 win over St. Thomas Aquinas in the semifinals of the Dan Furst Memorial Tournament.
The storybook season unfolding took a different turn, though, in an Apr. 14 game against Ozark. Compton took the mound in the first inning, but left the game before the inning was complete with soreness in his right shoulder. He would not pitch again until May 10, although he did contribute at the plate and in the field at first base for the Pirates.
Compton returned to the mound in time for Districts, and took the ball for Branson's semifinal match-up against Ozark. Compton settled into a pitcher's duel with the Tigers' Landon Snyder. Ozark held a slim 1-0 lead until the sixth inning when the Tigers tacked on three more runs. Branson rallied in the top of the seventh, but fell one run short in a disappointing 4-3 loss, which ended the Pirates' season at 17-7.
For the season, Compton posted a 4-1 record with a 1.14 ERA. He struck out nearly two batters for every inning he pitched this season, as he recorded 67 strikeouts in just 36 2/3 innings of work. Compton only gave up 15 hits all season. Perhaps the most impressive stat—and one that Lael and other coaches certainly appreciate—is that Compton only walked two batters the entire season. For good measure, he also recorded a pair of saves for the Pirates in relief. Compton has already been named 1st-Team All-COC, and will be in contention for further postseason honors in the near future.
Branson has had some incredible talent come through its baseball program over the years, and Compton ranks with the best, with impressive career numbers to back up that proclamation. Lael, who has seen plenty of area talent over the years, has said on at least one occasion that Compton is as good as anyone he has seen in his 24 years of coaching at Branson. Compton posted a 21-8 record in his four-year varsity career, with 243 strikeouts and just 40 walks in 195 innings pitch and a 1.76 career ERA. Compton was also a .349 career hitter with 87 RBI and 87 doubles. He helped lead Branson to District titles in 2008 and 2010.
With the book on a standout prep career now closed, Compton now has his sights set on making his mark at the collegiate level, with professional baseball a realizable goal on the horizon.
Originally published in the May-June 2011 issue of Ozark Preps Illustrated.