Brown and Gold Torpedo
(Photo courtesy of Dan Senn)
This guy looks like a swimmer.
That is the first thought as Kickapoo's Samuel Senn pulls himself out of the pull after winning the 200-yard individual medley at a recent meet. Taller than nearly every other swimmer at the pool, Senn also is ripped to shreds from the countless hours spent in the pool.
"He has that good swimmer's physique," said Kickapoo head coach Pete Hill of his junior star. "He's got the height and he's got the stroke and he's got the mental willpower to just suffer. He really can suffer through some pain, and that's what allows him to do what he does."
What he does is win…and win a lot. Senn has already qualified for the MSHSAA Boys Swimming & Diving Championships on Nov. 7-8 in St. Peters in seven different events (plus a relay). However, since he is limited to only two individual events at State, Senn will look to improve upon a pair of All-State finishes a year ago in the 100- and 200-yard freestyle events.
"I'm really hoping to improve on my positions compared to what I got last year, which was fifth in the 100 and third in the 200," said Senn. "Most of the guys who beat me were seniors, so they're gone, but there's some other really good younger swimmers who will be competition."
"There's so many different events that I could put Samuel in, but last year we kind of committed ourselves to it mentally and I think we're going to stick with that plan on the 200 and 100," said Hill. "With his strength, his size, his freestyle and his determination, the 200 and the 100 are a really good fit for Sam."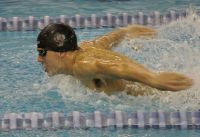 Senn is bidding to become Kickapoo's first state champion since Ryan McFall won the 100-yard butterfly in 2010. Senn, who set the school record in the 200 last year at 1:42.50, is a sprint specialist who also can compete (and win) in other events, too, as evidence by his state-qualifying times in the 50 free, 100 fly, 100-yard backstroke, 500 free, and the 200 IM. Senn also is a member of Kickapoo's state-bound 200 medley relay team.
"He's the most versatile athlete I've probably ever coached," said Hill. "He can swim anything and everything. He really has no weakness. Every time he steps up he races, whether he's at practice or he's at a meet. Samuel pushes himself until he's just absolutely worn out…and then he pushes himself a little further, and that's why he is where he is. I really look for him to do great things at State this year, really great things."
Senn began swimming at an early age after his parents started him and his siblings in swim lessons at Springfield Aquatics. Senn, who was around three or four at the time, took to the sport immediately, and began competing in meets at age seven. It did not take too long for Senn to realize that he had a future in the sport.
"When I was 12, I had my first really big meet where I actually won something, and I was like, 'oh, that's pretty cool…let's see what else I can do,'" said Senn. "The next year, I had another really good race. When I was 14, that was a really big breakout year for me. That's when I really just took off with all of my times and saw that I could really do a lot with swimming."
Senn has made his mark on his competition, too, including Central's Evan Petrich, a fellow Springfield Aquatics alum and another SWMO threat to win a state title in St. Peters next month. The two have battled throughout their careers.
"He's taller than me, so he's got the size advantage…and the weight advantage," said Petrich. "He's always been a really good freestyler. Normally, I could beat him in the IM, but he's gotten better at that, too, and I've had struggles. I've always had fun training with him. He's really fun to be around. I love doing things with him."
In addition to God-given talent, Senn's work ethic allows him to excel. He never takes a day off—or a practice for that matter.
"What makes him so good? Hard work," said Petrich. "He goes hard every time. He hardly ever misses a practice, and when he's there he's always giving you 100 percent."
"I think it's my work ethic," a humble Senn said when asked what makes him so good. "I want to make sure that I always put in as much effort as I can. I don't want to skip practices or not do what I'm supposed to do. I always try to get better and improve on little things, whether it's flaws in my stroke or whatever. I am always trying to improve and swim better.
"You have to mentally prepare before every meet and every race," added Senn. "You can't just swim the meets and expect to do really good. You have to work hard and put the time in at practice and be able to work hard there so you'll be able to improve at meets."
As Coach Hill said, Senn has the mental willpower to suffer, to push himself beyond the brink of exhaustion to win a race. It is all part of Senn's mental preparation for each race.
"When it gets closer to a race, I might listen to music and then I'll just sit quietly," said Senn, who said that Lecrae always gets him pumped up before a race. "I don't talk a ton. I just kind of get my mind clear and think about the race."
Senn's talents will almost certainly land him a scholarship to compete collegiately, although that destination remains to be determined. With State less than a month away, Senn is focusing all of his attention right now on winning a pair of state titles.
"He and I have really not talked about that," said Hill of Senn's college decision. "I think right now we're just focusing on state. He is really focused on that state championship. He really, really wants that. I know for a fact that he is in the top of his class as far as a student. His attendance at school, he misses for nothing. I think Sam's doors are very wide open and he's going to have to kind of narrow that down, because I think his opportunities are really great."
One thing that is not in Senn's future is America's pastime, at least according to Petrich, his friend and competitor.
"He used to play baseball and then he finally gave that up," said Petrich. "He finally realized that he's a better swimmer than a baseball player."
As good a swimmer as Senn is in the pool, he may be an even better person out of it. His character and leadership qualities are evident in the hallways at Kickapoo.
"He's a super, super nice kid," said Hill. "He's a team leader. I would suspect that he's a leader amongst his friends. He's just the most straight forward kid you're gonna run into. Sam's just a great leader and a great individual for these other kids, freshmen and sophomores, to look up to and see what hard work does for you."
A trip to St. Peters is just weeks away. Crank up the Lecrae and get out of the way—there's a brown and gold torpedo on a mission.