Halfway Goes All the Way
Halfway's Mike Calhoun bats against Oran in the 1998 Class 1A state championship game won by the Cardinals by a 9-3 count. (Photo courtesy of Cindy Evans)
Small school baseball, for the most part, means dirt infields, quirky home field nuances, and fewer students from which to choose players for a team. Halfway certainly is a small school—and town for that matter. Halfway is located, literally, halfway between Bolivar and Buffalo on Highway 32. Driving across Polk County into Dallas County—or vice-versa—Halfway serves as a brief 45 miles per hour speed zone. There's a church or two, a convenience store and a few other smaller businesses, and there is the Halfway School, which sits on the south side of the road in the "middle" of town.
In the late 1990s, though, Halfway was a destination point for baseball fans all across the Ozarks, who made the trek to the tiny hamlet to see firsthand one of the best baseball teams in the area. The Cardinals had experienced some success in the mid-90s, winning their share of games and a District title or two, but those years paled in comparison to a two-year stretch from 1997 to 1998, in which Halfway lost just four games while winning the Class 1A state championship in 1998. The Cardinals finished in a disappointing 4th-place in 1997 with what many feel was a better team than the 1998 state champions.
Changes were in store at Halfway going into the 1996-97 school year. The fall of 1996 marked the first season of fall baseball at Halfway. It also signaled the arrival of new head coach Steve Carvajal. The fall of 1996 also was the end of life as the Cardinals knew it, as Carvajal drilled his players relentlessly in the muggy August heat. The players may have despised Carvajal at the time, but to a man, they all heap praise on him years later.
"The practices with Coach Carvajal were just insane," said Ben Locke, a senior on the 1997 team. "It was a shock to the body, the work he was putting us through. Honestly, game time was the least stressful of any of it, because it was just a downhill slide from there."
"In the fall, he worked our tails off," said Mike Calhoun, a junior on the 1997 team. "That prepared us more than anything. We went back to the basic fundamentals. I remember even re-learning how to take batting practice. I had never had a coach like that. He was a really good baseball coach. He broke down baseball into small pieces, and taught every fundamental aspect of it."
"Coach Carvajal was a breath of fresh air," said Matt Drake, another junior on the 1997 team. "We had a group of boys that had been playing together our entire lives, and we knew that what he was putting us through would make us better. We hadn't ever worked that hard on a baseball field."
Carvajal even instituted his own version of batting practice, which featured a pitching screen set-up about 30 feet from home plate. Even though the batting practice pitcher was not intentionally throwing fastballs, at that distance, the batter was facing what seemed like 90-mile per hour heaters. With only a few exceptions, the live pitching the Cardinals faced in games paled in comparison. "It made the pitches seem slow in games," said Calhoun. "The pitching we faced in games was worse than what we were facing every day in practice."
Another key difference was that Carvajal was a baseball coach. "In small school baseball, a lot of times you get a basketball coach who also coached baseball," said Aaron Evans, yet another junior on the 1997 team. "Coach Carvajal was different, because he had a solid baseball background and had played in the upper levels of baseball. Carvajal's motto was: 'Game days are your off days.' The games were slower-paced and less intense than practice."
Everything with Carvajal's program was regimented, including pregame warm-ups, and the Cardinals went about their business with military precision. "With all of our warm-ups, we did everything in regimens," said Evans. "It helped us stay focused. Baseball is a mental game. If you get in an opponent's head, you're already ahead of them. It is intimidating. It tells the other team, 'these guys are here for business.' It also creates team unity and creates structure."
"We worked out the kinks in the fall," said Locke. "It was a new style of play, and that's where we got broken in. We went 6-0 in the fall, and with all the practices thrown in, by the time spring came around, it was almost like we had played half a season together. When you play small town ball, you know guys on the other team. Whenever we would be going through our pregame warm-ups, the other team would stop what they were doing and watch us. It was no nonsense. All the horseplay went out the window."
"I knew that Halfway was a quality baseball team," said Carvajal. "I just broke down their fundamentals, and we went to work on different aspects of the games, like running the bases and being aggressive. That work created quite a baseball season."
Halfway entered the 1997 season with upperclassmen scattered throughout the lineup, including seniors Brian Doke, Locke, Kenton Payne, Nathan Poterbin, and catcher Jay Roderick. The Cardinals also sent five talented juniors to the field each game in Calhoun, Drake, Evans, Jeremy McCarthy, and Mark Timmerman. Sophomore twins Brad and Brandon Doke also filled key roles, with fellow classmates John Andrews and Josh Forrest also seeing occasional action.
The Cardinals averaged a gaudy 13.3 runs per game in the 1997 regular season, and were held under 10 runs in only four games—all of which were victories. Halfway also had a trio of dominating pitchers in Evans, Locke and Timmerman, who regularly mowed down opposing offenses, and registered seven shutouts in the regular season. When the ball was put into play, the Cardinal defense was nearly airtight, as Halfway opponents averaged just 1.95 runs per game.
The Cardinals finished the regular season with a 21-0 record, with an average margin of victory of 11.3 runs. "We did roll through the entire season," said Calhoun. "We were solid 1 through 9. There really wasn't a weak spot in the lineup. In single A baseball, if you have nine solid bats, you're gonna score a lot of runs. Plus, we had four solid pitchers in 1A."
However, there were a few close calls along the way. Jasper led the Cardinals 3-2 in the top of the fourth inning in the fourth game of the season. Payne doubled in Drake to tie the score, and later scored the go-ahead run. With a 4-3 lead, Locke struck out the side in the fifth inning, and registered eight strikeouts in the final three innings of the 4-3 victory.
Halfway had some battles with Pleasant Hope in 1997 and 1998, including the 1997 regular season. The game was scoreless through six innings. Evans led off the top of the seventh by reaching base on an error and Locke followed with a two-run homer to give the Cardinals a 2-0 lead, which held up as the final score.
Halfway only surrendered more than six runs in a game once all season, and that was against Sparta, who led the Cardinals 8-5 going to the bottom of the fifth inning in a game played at Halfway. Halfway led off the fifth with singles by Drake, Payne and Roderick, who drove in Drake to cut the lead to 8-6. Calhoun followed by reaching base on an error, and driving in Payne in the process. Sparta scored another run in the top of the sixth inning to lead 9-7, but the Cardinals erupted for five runs in the bottom half of the inning. Sparta struck for two more in the seventh to trail by one run at 12-11, but Evans struck out a Trojan batter with runners at first and second to end the game.
The Cardinals were willing to play whoever and wherever, as Carvajal sought to beef up the team's schedule. "We added as many tough teams as we could," said Carvajal. "We wanted to make the regular season schedule as tough as possible." One such team was Springfield Central, and the Cardinals headed south to play the Bulldogs in a regular season match-up.
"When we walked onto the field at Central, they were making fun of us," said Calhoun. "'Oh Halfway, where's that at?' They were razzing us for being the little hicks from Halfway. We said, 'let's run rule 'em'…and we did." Evans also recalls the catcalls from the Bulldogs. "You got this 1A school from out in the country," he said. "At big schools like Central, you'd have tryouts and then pick the best players for the team. At Halfway, there were no tryouts. Whoever showed up for practice was on the team." Final score: Halfway 11 Central 1.
The Cardinals rolled through District play, defeating Fordland 15-5 in the championship game. Halfway dominated Clever 11-1 in the Sectional round, setting up a battle with Golden City in the state quarterfinals, with a berth in the Final Four at stake. The Eagles sent their ace, David Combs, to the mound. Combs stood 6-7, weighed about 240 pounds, and "threw lights out," according to Carvajal. The Cardinals' batting practice techniques would be put to the test by the hard-throwing Eagle pitcher.
"He was very effective and threw extremely hard, but he had accuracy issues," said Evans of Combs. "Anything above 81 or 82 (miles per hour) was fast for 1A, and he was pumping it in there at 90-plus. Plus, he was tall, so it was coming in at a different angle than we were used to. It was a new challenge for us."
Although Combs threw hard, he also was erratic and hit several Cardinal batters, including Locke on the elbow of his non-pitching arm. Timmerman hit a homerun to tie the game and eventually, the Cardinals got to the Golden City bullpen and pulled away for an 11-5 victory. It was off to the Final Four at Simmons Field on the campus of the University of Missouri in Columbia.
"Our game plan was to get him (Combs) to throw as many pitches as possible," said Carvajal. "He had thrown 93 pitches after three innings. He'd never been hit hard, and we got to their bullpen."
"That whole game was a battle," said Locke. "They were a really, really tough team. It was our biggest victory for sure. To do it at home in front of our home crowd was also big."
In the Class 1A state semifinals, Halfway would face New Bloomfield, a Class 1A power and the defending state champions that had already won four state titles and made five Final Four appearances in the previous six seasons. The Cardinals would also have to overcome the "bright lights, big city" mentality of their first trip to the big time, as well as the changes associated with playing their first night game of the season. On paper, it was the 25-0 Cardinals against 12-8 New Bloomfield, but the Wildcats' Final Four experience played a key role in the outcome.
"I remember stepping onto Simmons Field for the first time," said McCarthy. "Of course, it was big deal to us small town boys. It seemed like we were just happy to be there. We let up a little on our intensity." Timmerman concurred. "It was completely the small town boys going to the big city," said Timmerman. "We were shell shocked over everything. We weren't ready for it, by no means."
"It was tough before that first game," said Locke. "Here we are in Columbia in this gorgeous stadium. I kept thinking, 'stay focused, stay focused.'" The immaculate field also differed from the rough dirt patch back at Halfway. "We were used to playing on a dirt infield," said Evans. "Here we were stepping onto a college field."
Halfway did have reason to celebrate, though only briefly. The Cardinals led 1-0 in the bottom of the second inning as Timmerman scored Calhoun on an RBI-single. The Wildcats answered with a pair of two out runs in the third to lead 2-1. Halfway came back again, though, and scored two runs in the fourth inning to regain the lead at 3-2 after four innings of play. However, New Bloomfield answered with three runs in the top of the fifth inning, and Halfway managed only three base runners in the final three innings in the 5-3 loss.
"We misplayed two or three balls," said Carvajal. "Evans pitched a heckuva game. We just didn't get the big hit when we needed it. We had a few defensive lapses that cost us a couple of runs."
The New Bloomfield lost still haunts the Cardinal players today. "We didn't run into New Bloomfield, we ran into our first night game, in my opinion," said Drake. "We lost a bunch of balls in the lights. We beat ourselves. We were the better team." Locke always felt like the Cardinals would come back and win. "It wasn't the first time we had been down in a game. It wasn't an absolute foreign idea that we could lose, but we just needed to buckle down and do what we'd always done."
"It was a close game," said Evans. "Whether it was nerves or not, they just played better than we did. It was very disappointing. It's heartbreaking, because we didn't go there to take second, third, or fourth. They played better than we did and the scoreboard proved it. It definitely gave us a hunger for the next season."
The loss carried over into the third-place game the following day against Holcomb, as the Cardinals went through the motions in a 6-2 loss to finish in fourth-place. "It wasn't even like the same team the next game," said Calhoun of the Holcomb loss. "Most of it was we knew we weren't going to win the championship. It's a different feeling when you know you're playing for third-place instead of a championship. It was just a numb feeling. It was probably the worst game we ever played."
"When you taste defeat for the first time, there's kind of a letdown," said Evans. "It was a good experience, but not a pleasant one. I felt bad for the seniors, because we knew we had another year to get back. We weren't cocky, but we had a hunger to go back the next year."
"Our heads definitely weren't in it," said Locke, who along with the other four seniors, ended his career with the school's first-ever trip to Final Four. "With the run we were on, it's tough to take a loss right before you're about to play for a state championship. As a team, it was tough recovering from that."
"We were determined that we were going to go back," said Calhoun. "We were going to do whatever it took to go back to State. There was no reason we couldn't win it with the group we had coming back."
The Cardinals lost five seniors off the 1997 team, including starters in pitcher Ben Locke, leftfielder Kenton Payne, rightfielder Nathan Poterbin, and catcher Jay Roderick. "Kenton Payne was a big factor in '97," said Timmerman. "He broke the 1A record for being hit by pitches. He was always on base. And Jay Roderick called some outstanding games at catcher. I don't ever remember, as a pitcher, shaking off a sign from him. He knew how we pitched and what pitches to call."
Halfway returned a core group of players for 1998, and had several underclassmen ready to step into more prominent roles. In particular, junior Brandon Doke stepped into the spot vacated by Locke in the rotation. The Cardinals had Evans and Timmerman at the top of the rotation, with Doke pitching a midweek game when needed. Doke also played third base when not pitching, while twin brother Brad Doke replaced Poterbin in right. Junior John Andrews replaced Payne in leftfield.
Freshman Clint Vest stepped into the catcher's role in place of the departed Roderick. "Clint didn't have the bat that Jay did, but he was an exceptional catcher," said Calhoun of the freshman. "He handled pressure better than any freshman—or anyone else for that matter. I never worried about the catcher position with Vest back there."
The Cardinals knew they were losing the seniors, but they did not know that they would also lose their head coach after just one season, as Carvajal left Halfway to coach at North Shelby. "Sometimes, I wish I would have stayed one more year, but it was a good opportunity," said Carvajal of his decision to leave. "It was a storybook season, and those boys worked their tails off. They were a good group of kids that wanted to learn. It was a special bunch of kids, and I'll never forget it." Carvajal is currently the Superintendent of the LaPlata R-II School District.
"Without Carvajal, we wouldn't have gone to State," said Locke, who went on to play college baseball at Avila University. "I don't think the '98 team would have either. I played baseball for 14 years and he was, by far, the best coach I ever had."
Rick Hammers, a member of Hillcrest's 1988 state champions, took over the helm. "I knew there was some talent at Halfway—a lot of it," said Hammers. "They had a good nucleus coming back. There were a few holes, mainly with the loss of a starting pitcher and at catcher. I had seen them play the year before a couple of times and at the 1A level, they were a very good baseball team.
"They really didn't need to be motivated too much," he added. "We worked a lot on bunting and base running, and they had a lot of freedom to do what they wanted. The bunting game and running game were a big part of our success, along with our starting pitching."
"They were actually very similar coaches," said Evans of Carvajal and Hammers. "They both had solid baseball backgrounds. Coach Hammers was open to us keeping the same routines and regimens, because they obviously were successful. He built upon what Carvajal had taught us. We still practiced hard, and game days were still our off days.
"There was a transition period, because everyone had great respect for Carvajal," added Evans "There's always an unknown with a new coach, but he helped us grow as players and people, just as Carvajal had helped us grow as players and people."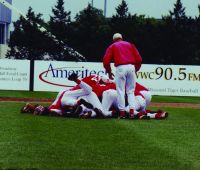 "It really didn't have an effect on us," said Timmerman of the coaching change. "We had a mission, and it didn't matter who came in there, as long as they were willing to work with us. We had a mission and that was it."
"He basically took what was already started and he let us be successful," said Calhoun of Hammers. "Looking back on it, I think he was wise to do what he did. He was a good coach. Our practices were like drills and we already had our drills down."
"We wanted to try to run everything the same way as the year before," said McCarthy. "He (Hammers) didn't have any problem with us working hard."
Halfway entered the 1998 campaign as the #1-ranked team in Class 1A. The Cardinals opened the season with nine straight blowout victories, including six shutouts. Evans and Brandon Doke, the team's third starter who replaced Locke in the rotation, combined on a no-hitter against Walnut Grove. The Cardinal offense was on a power surge, with balls leaving the yard with regularity.
In the tenth game of the season, the Cardinals played host to Pleasant Hope. The game was scoreless through three innings before the Pirates plated a run in the fourth. Pleasant Hope added two more runs in the sixth with two outs and added a solo homerun in the top of the seventh. Halfway managed a run in the bottom of the seventh, but the Cardinals lost their first regular season game in two years with the 4-1 defeat.
In the next game, the Cardinals fell behind at Fordland 4-1 after three innings and never recovered, losing 5-2 to drop their record to 9-2 for the season. "It was a team effort," said Hammers of the loss. "Fordland was a good team. We didn't perform that day and they did."
The bus trip back to Halfway was a turning point for the season, as the back-to-back losses refocused the team. "We had a 'come to Jesus' moment on the bus ride back," said Calhoun. "The air was thick. The five seniors said, basically, 'if we have to score every run, we'll do it.' We gave a 'pretty strong exhortation' to the underclassmen that they needed to step up and score at the bottom of the order. Losing those two games was the best thing that ever happened to us. After the Fordland game, we became a strong team."
"That was the best thing that could ever have happened to us," echoed Timmerman of the two losses. "It gave us the realization that we could be beat. We were beatable. With the '97 team, the worst thing that didn't happen was that we thought we couldn't be beat."
"I don't like to lose, but one of the problems in 1997 is that we had never lost," said Evans of entering the Final Four undefeated. "Those losses made us realize that we needed to get our stuff in gear. It's not a guarantee—anything can happen. It was an eye-opener, a wake-up call. It was a make or break point, and those two losses helped us as much as anything. We got refocused on one-game-at-a-time instead of looking ahead to State."
"It took a little of the pressure off," said McCarthy of the losses. "It made us refocus our intensity. You learn more about your team when you lose a game or two."
"Losing builds character," said Hammers. "Were we a little confident? Yeah. If you're gonna lose, you better do it early and get it under your belt. It was a humbling experience for everyone."
The Cardinals rebounded from the two losses by hammering Fair Play and then Weaubleau in the first round of the Polk County League Tournament. The Cardinals trailed Morrisville 3-2 going to the bottom of the sixth in the second round. Drake led off the inning with a double, followed by RBI singles from Evans and McCarthy. Brandon Doke later added an RBI single and Halfway cruised into a PCL Tourney title game rematch with Pleasant Hope following the 5-3 victory.
In the championship game, the Cardinals and Pirates battled for six innings and stood tied at 2 heading to the seventh. After the Pirates were shut down in the top of the inning, Evans launched a walk-off grand slam over the leftfield fence to give Halfway a 6-2 victory. "I knew we were going to win the game when Evans came up to bat and the bases were loaded," said Calhoun. "I just didn't know he'd hit it out. You knew it was gone as soon as he hit it."
"We wanted that game," said Evans. "When someone beats you, from a competitive standpoint, you want to avenge that loss. I wasn't thinking about hitting a homerun in that situation, I just wanted to put the ball in play. I swung and it flew off the bat. I didn't really think it would be a homerun, but when it went over the fence, it was just a great feeling."
Hammers has high praise for Evans, who was an Honorable Mention All-American in 1998. "If there is any player that worked harder than Aaron Evans, I'd like to meet him," said Hammers. "He did what it took to be great. He did the extra things on the side. He was the hardest working player ever. He was a baseball player. He was one of the top three players I ever coached. If my children grow up to be half the man that Evans is, then more power to them."
The Cardinals followed up the PCL title with an 8-7 victory over a pesky Sparta squad, as Drake hit a two-run homer in the third and Timmerman a three-run bomb in the fourth, both of which gave Halfway a lead. "None of us were hitting that game," said Timmerman. "We started to worry it was going to be our third loss. We had determined after our second loss, though, that losing was not an option anymore."
Halfway closed the regular season with two more victories and then defeated Dadeville 5-3 in the first round of Districts. The Cardinals dispatched Morrisville for the second time in two weeks by a 5-1 count in the District title game.
The Cardinals played host to Billings in the Sectional round, and maybe the largest crowd in Halfway baseball history turned out for the game. "The little field we had only had a couple of small bleachers, but there were lawn chairs lined up all around the field, and people were standing everywhere," said McCarthy.
Billings struck early, plating two runs in the top of the first inning for an early lead, but Halfway countered with a run in the bottom of the third. After the Wildcats scored another run in the top of the fifth, the Cardinals answered with two in the bottom half to tie the game at 3. In the bottom of the seventh inning, with the score still tied 3-3, Evans led off with a triple. After Drake and McCarthy were intentionally walked to load the bases, Brandon Doke was hit by a pitch, forcing home Evans from third with the winning run.
"That was the most anti-climactic win you could have," said Evans. "You're expecting a hit, or at least a ball in play. You don't expect a game to end that way. You're thinking, 'Is that it? Is it over?' They did the right thing strategically with the intentional walks, because he could have hit into a double play."
"In order to win a state title, you have to have breaks throughout the season, and we caught a break," said Hammers. "We had the heart of the lineup coming up. They tried to set-up the double play. It was a tough decision. I would hate to have been on the other side making that decision.
"The Billings pitcher had dominated us," added Hammers. "We couldn't hit him. I was going to squeeze on the second or third pitch, depending on the count. Doke took one for the team. It was a battle of attrition, and we won."
Halfway faced Jasper in the state quarterfinals, and held a narrow 2-1 lead when they came to bat in the top of the sixth. McCarthy reached on an error to open the inning and, following an out, the 7-9 hitters all drew walks, the last of which stretched the lead to 3-1. Timmerman, the team's leadoff hitter, followed with a two RBI double to blow the game open, as Halfway posted a 6-1 victory. The "come to Jesus" moment following the Fordland loss had paid dividends, because the bottom of the order had come through in the clutch.
The Cardinals were headed back to Columbia for the 1998 Class 1A Final Four, once again at Simmons Field. Halfway's opponent would be a familiar foe in Macks Creek, a team the Cardinals had already beaten 9-3 earlier in the season.
"I was really happy with our pairing at State," said Hammers. "I felt very confident going into that game. My biggest decision was should I pitch our ace, Evans, or Timmerman? They were both workhorses that year. I made the decision to go with our ace. We had to get out of the gate. You don't want to lose without your ace on the mound."
Halfway jumped out to a 3-0 lead after two innings, added two more in the fifth and two more in the top of the sixth to lead 7-0 going to the bottom of the sixth. Macks Creek erupted for four runs in its half of the inning, and after Halfway went scoreless in the seventh, the Pirates were down to their final at-bat.
A couple of errors put two runners on to start the inning, followed by a groundout and strikeout. The next Pirate batter ripped a two RBI double to cut the lead to 7-6. Following a walk and stolen base, the Pirates had runners at the corners with two outs. Evans slammed the door shut by striking out the last batter, as the Cardinals escaped to the state championship game with a 7-6 victory.
"I got ahead in the count on the last batter," said Evans, who went 3-for-3 at the plate in the game with a triple, two RBI and two runs scored. "I didn't want to give him anything to hit. I had one more base to give. It was stressful, but you just have to focus on your job. I wasn't thinking about the state championship, I was thinking, 'just do you job.' All of the stretching, regimens and practice were focused on being mentally in tune and doing your job."
"I think everybody thought it was going to be a blowout," said Calhoun, who also went 3-for-3 at the plate in the game and scored a pair of runs. "The biggest thing I remember is thinking, when it got tight at 7-6, that it might be possible they were going to take us. You just get that sick feeling in your stomach. 'We're not surely gonna let this happen again.' Bless his little heart, Aaron struck that guy out to end the game."
"We got way too comfortable," said Timmerman. "We got too lackadaisical. We thought it was over. We made it way too close for comfort."
"Aaron was sore that day and did not have his best stuff," said Hammers. "Still, I would rather have Aaron at three-quarters percent than most pitchers at full strength. It was a big game to win or lose."
"With Evans on the mound, not to say there wasn't any doubt, but I wouldn't have wanted anyone else on the mound," said Drake. "He was the man. We had our ace on the mound."
In the state championship the following day, Halfway jumped on Oran early, batting around in the first inning for an early 3-0 lead. "That's what made it easier—not easy—was that we scored so many runs early," said Timmerman, who was pitching the state championship game for the Cardinals. "With a two-, three-, four-run lead, you can make some mistakes. The nerves were a lot better after we batted in the first."
"He was a pitcher," said Hammers of Timmerman. "He didn't have a phenomenal fastball, but he threw strikes. He also had a nice overhand curve that was hard to hit. He kind of made them look foolish. He threw one of the better games of his career that day."
The game was not over, though, as Oran rallied for two in the bottom of the third to cut the lead to 3-2. In the top of the fourth, though, the Cardinals scored four runs to break the game open, keyed by a two-run double to right center by McCarthy. In the top of the fifth, McCarthy ripped another two-run double to right center, scoring Evans and Drake to up the lead to 9-2. Oran added a run in the seventh, but Halfway won going away by a 9-3 count. The Halfway Cardinals were state champions.
"There's nothing that can top that," said Timmerman of winning a state championship. "I pitched one of the best games of my career, but I had the defense behind me. We had no errors. I was never a strikeout pitcher. I made them put the ball in play. That was one of the greatest days of my life."
"There was a sense of relief in the fourth when we put together a run that we were going to do what we needed to do," said Calhoun. "We went out winning and there's no better way to go out than winning. Of all the teams in Missouri, very few get to walk away with a win. I couldn't help but think that if this team could win it, then last year's team should have won it."
"Timmerman pitched a great game," said shortstop Evans, who would go on to play collegiately two years at College of the Ozarks and three more at Southwest Baptist University. "I remember the last play. We were one out away. I had always been taught never to look ahead, but yet there was this anticipation. The last ball was hit to short, and stuff just slowed down. Think. Do your job. Block everything out. It was just a routine play that I had made thousands of times in practice. Just field it and throw it to first. The bench cleared and there was a dog pile."
"It's not about me," said Hammers. "Coaches are only as good as how well their players perform. We played phenomenally that day. We played great defense and got a great pitching performance. We bunted exceptionally well. We had two successful suicide squeezes that day."
"Even though Carvajal wasn't there in '98, he was still with us," said Drake. "He taught us a lot and we carried that over into '98."
Winning a state title was special, but made even more special by doing it with friends they had grown up with playing baseball. "We all started playing baseball together when we were in first grade," said Timmerman. "We knew how everybody played. That's one of the biggest reasons for our success in high school. In certain situations, like pick-offs or squeeze bunts, all you had to do was make certain eye contact with different people and they knew what you were going to do." The only player who did not grow up in Halfway was Calhoun, who moved there from Louisville, Ky., prior to his sophomore year. "Calhoun fit right in with the rest of us, because he played just like we did," said Timmerman.
The years that have passed have not dampened the sense of accomplishment. "It makes you feel like you accomplished something in high school," said Calhoun. "You don't get the chance to do what we did the rest of your life. It's unique. You get to compete and be a champion. It was special to do it with guys that I was friends with."
"It is something to talk to my kids about," said Timmerman. "It's just pretty special. I hope my kids can experience something like that in their lifetime."
"I moved away, so I don't get to see the guys as much anymore," said Drake, who now lives in Mountain Grove. "I like to pull out my ring every now and then and show my boys. Show them some pictures of what a state championship looks like and what it means."
After a disappointing fourth-place finish in 1997, the Halfway Cardinals had gone all the way in 1998.
Originally published in the April 2011 issue of Ozark Preps Illustrated.