History of Missouri Football Playoff Formats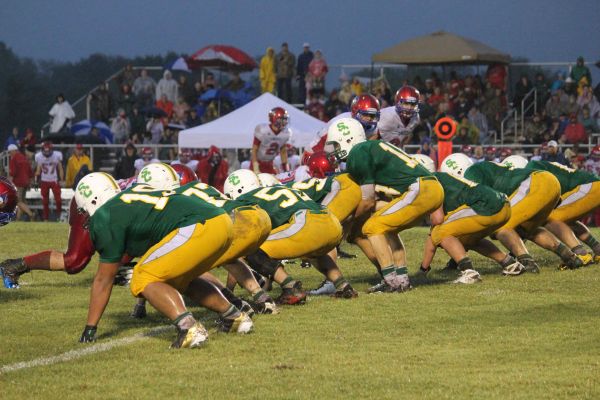 The Springfield Catholic Fightin' Irish won a Class 2A state championship in 1997. (Staff Photo)
There has been some type of playoff format in place for Missouri high school football since 1968. Many of the formats have been quite similar, maybe a tweak here or a tweak there, while some formats have featured a dramatic change from one season to the next.
At the request of Ozark Preps Illustrated, one man has supplied a brief history of the Missouri football playoff formats. According to MSHSAA's Jason West, Bob Bryant is MSHSAA's "go-to guy for anything historical" related to high school sports in the Show Me State. Therefore, according to Bryant, here is a brief synopsis of the various football playoff formats in play over the past 45 years:
1968-1974: A rather basic mathematical system was used to qualify schools for the state playoffs
Schools were divided into four classes (1A, 2A, 3A, 4A)
There were approximately 250 schools playing football in the state during this time period
Each class was divided into four districts
Each district produced one champion, which advanced to the state semifinals in each class
One unique aspect under the system was that there was no overtime in the state championship game, meaning that co-champions were declared
1975-1979: Same system as before, except a second qualifier from each district was added
With still only four districts per class, the top two teams in each district advanced to the state quarterfinals
Additional points were added or deducted for such areas as an opponent's won-loss record (strength of schedule), and bonus points for finishing unbeaten or beating teams with a winning record
1980-1987: Same format as before, except each district produced four state playoff qualifiers instead of two
With still just four districts in each class, the move to four teams added a Sectional round to the state playoffs
1982: Class 5A was added
1988-2007: A move to 16 four-team districts
A mathematical system was no longer used to determine qualifiers
Instead, qualifiers were determined on a head-to-head basis
Each class was divided into 16 four-team districts
These four teams played a round robin schedule the last three weeks of the regular season
Any ties were based on point differential (with a 13-point maximum)
In addition, 8-man football was added
2002: Class 6 was added, which was comprised of the largest 32 schools in the state
In addition, the "A" designation was dropped from each class (Ex.—Class 3 instead of Class 3A)
2008-2011: Same structure as had been in place, except each four-team district qualified two teams to the state playoffs
With the round robin format, it was entirely possible for a team to post a 1-2 district record and still advance to the state playoffs
2012: Back to a mathematical system!
Classes 1-4 and Class 6 have been divided into eight-team districts, with the number of teams in each district in Class 5 (and 8-man football) determined by the number of teams in a particular geographic region
Each team plays a nine-game regular season against opponents of its choice
Points are awarded throughout the regular season for such things as wins and losses, point differential, and strength of schedule, as well as bonus points for playing "up in class"
Prior to Week 10, each of the eight teams in each district are seeded based on the number of points compiled throughout the first nine games of the season
Week 10 features the first round of district play, with the top seed playing host to the #8 seed, the #2 seed hosting the #7 seed, and so forth