Hurryin' Hornet Harriers
Hermitage's Zac Sutt (L) and Jeff Salmon race toward the finish at the 2016 MSHSAA Boys Class 1 State Cross Country Championships at Oak Hills Golf Center in Jefferson City, en route to a third-straight state championship. (Photo by Jill Salmon)
After having won the past three Class 1 boys cross country state championships, Hermitage has its sights set on a historical four-peat this fall, as the Hornets' season began Aug. 26 at the Jim Marshall Cross Country Invitational in Jefferson City. A fourth-straight state title would put Hermitage on the same plane as perennial Class 1 state powerhouse College Heights Christian, which won four-straight titles from 2007-10.
West Platte also won three-straight Class 1 state championships from 2001-03. The state record for consecutive boys cross country titles is seven in a row, all won by the Herculaneum juggernaut from 1977-83, an era in which there were only two classes competing at the state meet. In all classes, only two other boys programs have won as many as three state titles in a row, including Warrensburg capturing three Class 3A titles from 1984-86. The other program is Festus, which is seeking its own four-peat this fall after winning the past three Class 3 state titles.
The first state championship in 2014 was actually the first state title in school history in any sport—and it came in dramatic fashion, too. The scores of the top five runners for each team count toward the team score, and the lowest score wins. The Hornets were neck-and-neck with St. Vincent throughout the 5,000-meter race, which has been held annually at Oak Hills Golf Center in Jefferson City since 1980.
"The first championship was the biggest one in doubt," said Hermitage head coach Mark Sabala. "It was really close with a talented St. Vincent team who were able to sprint past a couple of our runners at the finish line. It really swung the points in their favor. We actually ended up in a tie and needed to go to our sixth runner to break the tie. We were able to squeak by on that one."
The sixth-place runner that day was Zac Sutt, a sophomore at the time, who finished just over nine seconds ahead of St. Vincent's sixth runner. Both teams had finished with 90 team points from their top five runners, but Sutt's gutty performance—he actually posted a personal record (PR) in the race—gave the Hornets their first state championship on a tie-breaker.
"He ran a PR and actually outran St. Vincent's No. 5 and No. 6 runners," said Sabala of Sutt's performance. "The team learns to hear my voice through all the noise and that race he heard my voice earlier telling him he had to go now. He pushed harder up the final stretch to the finish and the rest is history."
The other fascinating thing about the first state title in 2014 was that Hermitage's scoring was provided by a pair of freshmen and four sophomores (including Sutt's tie-breaking finish). Freshman standout Easton Sabala, Coach Sabala's son, led the way with a 7th-place overall finish, the first of three consecutive All-State performances from the younger Sabala.
"It was the most exciting thing I have ever been part of—so far—and now seeing that we have done it three times is just surreal," said Easton of that first title.
Sophomores Bailey Jones (13th-place) and Dillon Meyer (20th) also turned in All-State performances. Sophomore Jeff Salmon turned in the fourth best finish for the Hornets after crossing the line in 53rd-place, while freshman Mitch Bigham rounded out the scoring in 55th-place.
In 2015, Hermitage returned to the top of the podium in more convincing fashion, as the Hornets outpaced St. Vincent once again. The Hornets scored just 61 points to St. Vincent's 85. Easton Sabala once again paced the Hornets with a 6th-place overall finish, while he was joined in earning All-State honors by Jones (9th), Meyer (16th), and Sutt (25th). Salmon finished in 34th-place to round out the Hornets' scoring.
Last fall, it was another dominating performance by Hermitage, as the Hornets (55 points) easily beat out second-place Lutheran (Kansas City), which scored 100 points. With the Top 25 individual runners earning All-State honors, Hermitage was less than nine seconds away from having five All-State runners, as Easton Sabala (3rd-place overall), Jones (6th), Sutt (22nd), and Salmon (23rd) earned All-State honors, with Meyer (27th-place) falling just short.
The convincing wins the past two years are certainly easier on a coach's nerves than the nail-biter in 2014. "The last two races, we were not as worried (as in 2014) as we were able to extend our leads each year, but I am never sure until they announce it," said Coach Sabala. "That's just the way I am. I never assume anything. In these three years, we have run six season best times and been led by Easton Sabala each time, as he has been the leader in the group with his work ethic and desire to push his teammates each time out."
Easton Sabala will be chasing some individual hardware this year, as well. In addition to seeking a fourth-straight All-State performance at State, Sabala is also the top returning runner from last year's State meet. Easton is more concerned about the team, though.
"I know if I can push myself and place myself up in the front, and we follow the game plan, we will be good," said Easton. "We are taught to run as a pack and if we fall back we are to keep our teammates in our sights at all times. If I do my job and the team does theirs, I know they will be right behind me."
Yet another interesting twist to Hermitage's state run is the cooperative agreement with nearby Wheatland, an arch-rival in pretty much every other sport due to the proximity of the two towns, which are separated by just five miles of Hickory County highway.
According to the MSHSAA By-Laws, pursuant to approval by the MSHSAA Board of Directors, "students from two member high schools may be combined to cooperatively sponsor interscholastic activities provided such is necessary to either have a sufficient number of students to support a program or will result in increased opportunities for students to participate."
The co-op with Wheatland began in 2013. The Hermitage program, which began in 2005, was going strong and had already been to seven State meets in its short eight-year existence. Wheatland, on the other hand, was struggling with low numbers and even to retain coaches. Coach Sabala had assisted the Wheatland coach in 2012 with training and one thing led to another.
"Our Superintendents started talking at some point and I was approached after that season (2012) and asked if I would be interested in a co-op and coach their kids officially and thought it was a great idea to allow me to assist other students who wanted to compete in this sport," said Coach Sabala. "We had two athletes from Wheatland the first year and I was able to speak with kids and get them to come out the following year and we have been growing ever since. The Wheatland kids provided us with some more students as our enrollment keeps declining and they brought more competition. This forced all the athletes to work harder and in return we saw faster times and more success. Amazing things happen when you are pushed each day and not just knowing you will make varsity because there are not enough kids to challenge you."
Coach Sabala was not content with just a handful of kids from Wheatland being a part of the program, though, especially when he knew there more than a handful of athletes at the school who could help the program. Plenty of coaches will "recruit the hallways" for student-athletes for their teams and programs, but rarely do coaches get the opportunity to recruit another school's hallways, so to speak, but that is the opportunity that the co-op presented for Coach Sabala.
"I have been around my dad and his coaching my whole life and he does what is best for the kids," said Easton Sabala. "So, when we started the co-op, he was not content with having only two runners from Wheatland the first year because he knew they had a lot of talented kids. the summer before my freshman year (2014), my dad and I went to a morning weight workout at Wheatland to see if he could convince a few guys to join us and do something special. We already had a solid program, but we knew with a few more components we could be really good. Coach Sabala spoke with them and explained the program, the opportunity they had for themselves and the benefits it could have within the community. It struck a chord with the group, as a majority of them joined the team that fall (2014).
"They mainly came out to stay in shape for basketball, but as the season progressed they saw the success we could have, which Coach had been saying the whole time," added Easton. "They became believers! We entered the State Championships knowing if we ran our race and followed the game plan, we could do something special. We pushed ourselves and realized after we were informed we won, that it was on a sixth runner tie breaker over St. Vincent. One of the Wheatland runners, Zac Sutt, was the reason why. Two communities working together to form one team who believe in each other. After that we pushed ourselves more and wanted to win each year or else we had failed ourselves. We believed in ourselves, we believe in our coach and his system and we are now sitting with three championships and a chance for one more."
As is the case with most small schools, there are very few student-athletes who specialize in one sport or another. The numbers simply are not there to support specialization. Therefore, it is quite common to find three-sport athletes at small schools—and even the occasional four-sport standout. At Hermitage, it is no different. When the cross country season ends (which means the second Saturday in November at Oak Hills Golf Center in Jefferson City), the Hornet runners trade the running spikes for basketball shoes. In the spring, you'll find most of the Hornet harriers on the baseball diamond, although the 2016 implementation of a track and field program at Hermitage provides another athletic option. The lack of specialization means that the cross country rarely gets any out-of-season, cross country specific practice.
"We are not a year round program and that may surprise some," said Coach Sabala. "We are a small school and a majority of our athletes do multiple sports. A typical year for us will be fall cross country—with some girls also playing softball—then they move to basketball or cheer. Then in the spring they go to baseball or track and then we will do summer training. In the summer, I may see two kids or maybe I will see 10. With their other commitments to summer basketball, softball and baseball, I have limited contact. Some of my runners only truly train during season and that is it."
Once Coach Sabala gets the runners full-time, though, he has a plan for each of them. It does not matter whether the runner is a returning All-Stater or a first-time program participant, there is a goal-oriented plan tailored to each runner.
"We have each athlete set personal goals for them and goals for the team," said Coach Sabala. "They understand that the better they can do as an individual, the better the team can do. We work on each runner having someone they can run with and aim for in each race on the team, and then they push each other. In the end, though, it means more to walk on the stage with your family than it does by yourself. The boys push the girls, the girls encourage the boys, and they want as much success for the JV or middle school teams as they do for themselves. Family will be there in the end."
This fall will mark the 13th-year of the Hermitage boys cross country program. The Hornets announced their presence immediately by winning a district championship in their inaugural season. Hermitage has made an November trip to Jefferson City a perennial occurrence, having advanced to the State meet 11 of the last 12 years—including that very first season back in 2005. "The girls have quietly made seven appearances during the same time frame," added Coach Sabala.
The Hornets finished in 16th-place that first season, but since have competed annually for a podium finish, as the top four teams at State get to ascend the podium—and also get to take a trophy back home. Hermitage first ascended the podium with a 3rd-place finish in 2008, and then finished in 4th-place in 2011.
There are many different factors that have come together to result in sustained success for Hermitage. Yes, the training is hard, and the hours can be long, but ultimately it comes down to trust.
"I truly believe the success has come due to the athletes trusting the coaching staff and the training program we have designed," said Coach Sabala. "They have seen the success and want to be part of it. They know I have their best interest in mind and I will do anything I can to bring out the best in them. If I tell them we can win, they know we can. If I tell them they can run a certain time, they believe they can because we have proven it in the past. It really is nothing special or a trick. I coach the person and let the athlete take over. I love my family—current, past and future."
It can sound like a coaching cliché at times, but the Hermitage cross country family truly is a tight-knit bunch. And it's not just the current team either. The past runners who laid the foundation in the early years are just as much a part of the past three state titles as the Hornet harriers who raced the Oak Hills course the past three seasons.
"Family—that is our program," said Coach Sabala. "It's dysfunctional at times, but it's a family. The boys want to win. They believe in working hard and having success. We work for it. That is the tradition. The athletes feel this is family and they want to be part of it. It is not like any other sport or group they are part of. We want to leave a lasting impression."
"We are a family which everyone is a part of," added Easton Sabala. "We support every runner in the program the same, whether it be the No. 1 or No. 25, girls team or middle school team. The tradition is success and we want to be better than our past and show our runners of the past that we will represent their efforts by giving our best."
"The cross country team is a family," said Bigham. "Coach Sabala's training program is the major key. Most of us on the team had never ran cross country before, but with his training we have become an elite program."
This fall will also mark the 13th year at the helm for Coach Sabala, who started the program from scratch. Sabala ran cross country all four years at Monte Vista High School in San Diego, Calif., and ran at Central College before injuries ended his running career. The injuries did not limit Sabala's baseball career, though, as he spent four years on the mound at Central. Before arriving at Hermitage, Sabala spent time in both Nevada and California coaching baseball (18 years), basketball (15 years), football (five years) and softball (three years). Sabala also has 16 years of cross country coaching under his belt, as well as four years of track and field.
"Coach Sabala's coaching style is very unique because he knows so much about the sport and about how we run as individuals," said Bigham. "He can tell us exactly when we will run our fastest, our slowest, when we will be tired and where we will be at the end of the year."
"His coaching style is very unique," said Easton. "He keeps everything compact and with a meaning. He believes in quality over quantity, which is why we are a low mileage program. He is able to do this with workouts which just seem to bring out the best in us, especially at the end of the season. He just has a way to make you believe anything is possible."
"I coach the whole person and see what works for each athlete," said Coach Sabala. "I prefer to be a father figure to the athletes. I want to be there for them to deal with academics, personal issues and assist with making future plans and goals. We are a family. We care about the person, not just what the athlete can do for us. Winning is a bonus for us. Seeing the kids work towards success and learn about hard work, dedication, teamwork and adversity is more important for us. I like to joke with the team, but expect the kids to do work when it is time."
Hickory County is certainly no stranger to state championships, but the majority of those state championship trophies are sitting in a trophy case at Skyline High School. Case in point: the Skyline Lady Tigers are the defending Class 2 state girls basketball champions. The 2014 state championship was the first state crown (in any sport) for both Hermitage and Wheatland—and it was a big deal in both communities.
"This was able to bring pride to our community and gain recognition for these young athletes," said Coach Sabala. "This is a true community championship since it is two communities coming together as one and breaking down barriers between the historic rivalries between the two. The cross country teams are not really a team, but a family which looks out for each other and competes for their brothers and sisters. The community expects to see the runners around the area, the cars slow down and wave, businesses support them with signs showing their support and it's just something to be proud of in general. We were finally able to join Skyline with State success and share a bond with them. In the end, the whole county supports the schools and the athletes. It's a great place to live."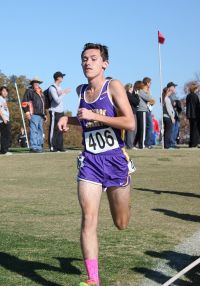 Another key to Hermitage's success in the past decade can be traced to the Hornets' willingness to race against any team on any day on any course. The Class 1 Hornets are not intimidated by the larger schools, and by competing against the larger programs and their depth, Hermitage primes itself for a trophy-hunting November.
"Coach has us compete against a lot of bigger and better teams throughout the year," said Easton Sabala. "He knows since we do not have a lot of kids, we need to find a way to compete against the better competition to make us stronger. This has allowed us to compete at the highest level and has led to our strength and confidence."
"It shows us that we are able to compete with these larger schools and it gives us the confidence that we need to be successful," said Bigham.
"I love competing against the larger schools because to be the best you need to beat the best," said Coach Sabala. "This forces us to work hard day in and day out. You do not want to go to a meet and be last every time—we did this our very first year—and it also humbles our athletes to be beat by these talented teams. This benefits us in the long run because we are used to larger meets with tough competition. It prepares us for the stress and challenges you get at Districts and State. Our kids know after three quarters of the season is over, we will finally get to compete against just smaller schools and we normally perform extremely well. That allows us to hit post season on a high note and with confidence."
The stiff early competition also allows the Hornets to peak at the right time, which in a perfect world would occur at the State meet.
"We want to be close to our top peak at districts, but we hope to truly peak at State," said Coach Sabala. "We do not have a different philosophy than we use in every meet during the year. We have goals and race plans set for each meet. We review them and then see if they can execute them in the race. We do this so when we are in the big races at the end of the year, we have done this in the previous ten races of the year already. It takes away the unknown. We focus on our team only and our runners. It is my job to focus on the other teams during the meet. Our runners just run the game plan."
Hermitage's State success has also trickled down to its own meet, the annual Hermitage Invitational. The meet is run at Pomme de Terre Lake, which is arguably one of the tougher courses in the area, . and has become one of the toughest meets each season. The Hermitage Invite, which will take place on Sept. 23 this year, began with just 10 teams but has grown into one of the larger meets on the schedule each year.
"We work hard and want teams to recognize us as a first-class team, not as a Class 1 school," said Coach Sabala. "I believe schools are seeing this, as our annual Hermitage Invite has grown from 10 schools to 50 schools this year."
Anyone who has been to a cross country meet has seen the "tent city" that goes up prior to the race. Each school erects a tent with their school colors and logos emblazoned across the top. It's a place for runners to relax and get mentally prepared before their race and to wind down afterwards. When schools see the Hermitage tent go up at a meet, they can be assured of certain things.
"It means that we came there for one reason and that is to win," said Bigham. "Other teams should be thinking that if they want to have a good race then they should run with a Hornet."
"We have earned other teams respect and when they see our tent go up, they know they need to bring their 'A' game because we are coming with ours," said Easton Sabala.
"It means we are here to work and want the best competition there is," said Coach Sabala. "We want teams to think that is a first-class program and it will be an honor to compete against us, because we feel the same way about all of them. We never look past any team. We respect them all."
The Hermitage harriers have put in a lot of time and effort—and a lot of miles—to become a perennial Class 1 state title contender. But it's not all work and no play for the Hornets.
"We know when to work hard, but we also know when to have fun and I think that's what makes us successful," said Bigham.
"On occasion, our coach will allow us to do adventure runs on the trails we train on," said Easton Sabala. "This allows us more freedom, so we will run through the woods, hide from teammates behind boulders, dive in mud puddles and just bond as a team. And you can't forget about the football we play at the end of the year. Good times!"
Graduation hit the Hornets hard last spring, as four of the top six runners picked up a diploma and have gone on to the next chapter in their lives. That leaves Easton Sabala and Mitch Bigham as the elder statesmen for a youthful bunch of running Hornets this fall. Notching a four-peat will be a significant challenge, but look past the Hornets at your own peril.
"We will have to do a lot of things to be the top team this year," said Coach Sabala. "We graduated half of our program last year. We return two runners from the group who brought home the past three championships. We will have to take it one day at a time and develop the runners through each race with our game plans and see where it leads us. A lot of teams think we will be down this year and out of contention and I think they may be surprised as the year develops. In the end, it will be whether we can we run as a family. If we can, we will have a chance. The team only talks about winning again and making history."
The Hermitage harriers are chasing history this fall, and the Hornets will not relinquish the top spot on the State podium without a fight. Better bring your "A" game!