Lady Pirate 'Ship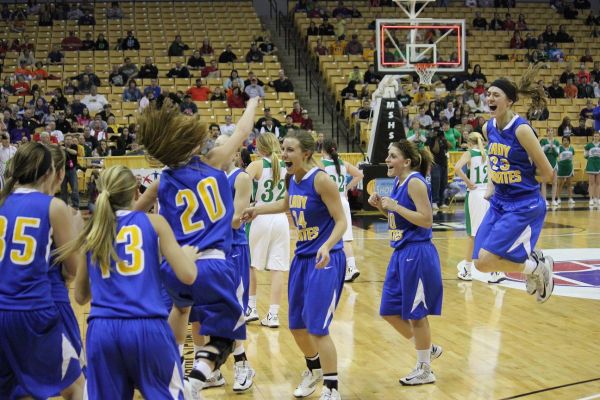 The Crane Lady Pirates celebrate their Class 2 state championship. (Staff Photo)
#noletdown
That was the hashtag mantra of the Crane girls basketball team this season, and the Lady Pirates did not let up until they had won the Class 2 state championship with a 55-45 come-from-behind victory over New Haven on Mar. 9 at Mizzou Arena in Columbia. The title marked the first state championship in any girls sport in school history, and just the second overall title after the Crane boys brought home a state crown in 2011.
Crane, which finished the season with a gaudy 30-3 record, still have not lost a game in 2013 after closing the season with a 21-game winning streak. The Lady Pirates' last loss came to defending Class 4 state champion Republic in the Pink & White Lady Classic on Dec. 27.
"I have dreamed of being associated with a championship team and when it finally happened, I didn't know if it was real," said head coach Jeremy Mullins. "We are still floating, just knowing we are the best team in Class 2 in the state of Missouri in 2013. It's still unbelievable."
Crane jumped out to a quick 4-0 lead on a pair of baskets by senior Maggie McMenamy and led New Haven 13-10 at the end of the first quarter. The Lady Shamrocks used a 9-2 run midway through the second period to turn a three-point deficit into a 21-17 lead. Crane answered that run with a 9-3 spurt to take a 26-24 lead at the half.
The Lady Pirates led 35-28 midway through the third quarter, as Crane used its superior depth to throw wave after wave of fresh players at the Lady Shamrocks. However, New Haven rebounded with a 10-2 run to close the quarter. With eight minutes left to determine a state champion, the Lady Pirates found themselves staring at a 38-37 deficit.
"I didn't think of it as 'eight minutes away from a state title,'" said junior Riley Israel. "It was just another game. That mindset kept me calm."
Coach Mullins also remained calm, and told the Lady Pirates to keep pushing the ball on the offensive end of the floor. Of course, he also implored his team to keep applying Lady Pirate pressure on the defensive end. For the game, Crane forced the Lady Shamrocks into 16 turnovers, including six in the decisive fourth quarter.
"The first thing he (Coach Mullins) said to us was to calm down, take a deep breath and to relax," said McMenamy. "He said to play how we know how to play and to play Lady Pirate basketball. I was extremely nervous and had the mindset that I needed to keep playing hard and not slow down until that final buzzer went off."
McMenamy is the one who went off in the fourth quarter. After a New Haven free throw to open the quarter, McMenamy scored five straight points to give Crane a lead it would not relinquish. For good measure, McMenamy then blocked a New Haven shot midway through the fourth and scooped up the loose ball and raced to the other end to give Crane an eight point lead. In all, McMenamy scored nine of her team high 13 points in the final quarter of her high school career.
"She is a baller," said Mullins of McMenamy's fourth quarter performance. "Her determination in the fourth was amazing. She kept attacking and finishing."
In the end, it was Crane capturing the state title with the 55-45 triumph. "I couldn't believe we did it," said junior Allie Hagler. "We were state champions and I was so excited. Honestly, it still hasn't sunk in. I want to go back and do it all over again."
McMenamy led Crane with 13 points and eight rebounds, while Israel added 12 points and pestering defense on New Haven star Rachel Steinhoff. Freshman Emma Lander scored 10 points and Hagler added nine. Freshman point guard Lexie Vaught did not commit a single turnover and had two steals on the defensive end. There was no letdown with the second wave of Lady Pirates either, which featured Loni Johnson, Justine Mahan, Kylee Moore, Addison Reel, and Kylie Vaught stepping right in and giving the Lady Pirates big minutes off the bench.
"We are blessed to be so deep and talented, especially for a small school," said Mullins. "We didn't do a lot of the 'five in and five out' this season. Usually it was two or three at a time, sometimes four. I think it paid off. It wore the other team down always having to face fresh players."
"This is our team," said Israel of the 10-deep Lady Pirate bench. "We have a lot of talented girls. We are well-conditioned, so when we can put in five pairs of fresh legs while the other team cannot, it has a major effect."
Crane played a very challenging schedule this season, which featured invitations to three in-season tournaments. All three of the Lady Pirates' losses came in those tournaments, but prepared Crane for the postseason tournaments that actually mattered.
The Lady Pirates' first loss came in the second game of the season, a 60-51 setback to state-ranked Marionville in the semifinals of the Ash Grove Lady Pirate Classic. Crane would avenge that loss three-fold, first with a 58-44 win over the Lady Comets on Dec. 20, followed by a 46-44 victory a week later in the Pink & White Lady Classic, and finally with a 64-35 rout in the district championship game.
Crane's second loss came to perennial Class 5 state powerhouse Kickapoo by a 54-50 count in the Stephanie Phillips Classic. The Lady Pirates' last loss of the season came to state-ranked Republic, the defending Class 4 state champions, on Dec. 27 in the Pink & White Lady Classic.
"Those games helped us a lot," said Mullins of the three losses. "It showed us that we still have room for improvement. The schedule we played this season molded us into a state championship team."
"Those losses helped our mental and physical toughness," said McMenamy. "We knew that if we wanted to make it to the top, then we were going to have to be prepared for other teams just as strong and as mentally tough as Republic and Kickapoo."
For Israel, all she needed was a simple statement from Coach Mullins. "After our third and final loss against Republic, Coach said he didn't want to lose again," said Israel. "That was enough motivation for us."
The Lady Pirates' state championship comes on the heels of Crane's 2011 boys basketball state title. It also marks the first state championship in any girls sport at Crane. That just adds to the excitement for the supportive Crane community.
"It means so much to me because I know everyone was so proud of our boys and I know that they are just as proud of us as they were of them," said McMenamy. "This state championship means a lot to our school and our community, because we were the first girls team to win a state championship in Crane's history, which makes it really special to all of us."
"Sometimes we got jealous because the boys receive more attention than we do, but not this year," said Israel. "We earned the attention we got, and are enjoying it."
The Lady Pirates have certainly earned some bragging rights in the Crane hallways. "We got so much crap from the boys saying that we would never make it here, and that we just needed to bow down to them and kiss their rings, but now we get to do the same thing," said Hagler in the post-game press conference, as her teammates laughed around her. "Our school and community are very proud of us. We received support from them all season long. We have made history and get to hang our team picture on the gym wall forever."
The state championship is extra special for Mullins, who is a Crane graduate. "I can walk down that hallway and hold my head high," he said. "My high school career wasn't very successful as a player, so this is how I get to stay close to the game. It's turned around and we're heading in the right direction."
With McMenamy the only senior on the roster, the direction the Lady Pirates are headed is likely to the top of the preseason polls next season, which means weighty expectations and a big bulls eye. "Having a state title is like carrying a target around," said Israel. "I think we will need to work harder, because everyone will want to beat us now. But we will play our game the way we always have."
Maybe it's time for a new hashtag for the Lady Pirates: #backtoback
Originally published in the March 2012 issue of Ozark Preps Illustrated.