To Hunt or Not to Hunt
I am not a hunter.
I would say that I have never even been hunting, but that would not exactly be true. After all, my Dad took me rabbit hunting once when I was a little kid. Well, I wouldn't exactly say he took me hunting since I didn't have a gun and my only job on the hunt was to run ahead a little ways and "scare up" some rabbits. So basically I was a cheap—and highly ineffective—hunting dog.
Looking back, I guess that wasn't the safest thing for a father to have his son do. "Hey son, why don't you run ahead a little ways and scare up some rabbits…don't mind the gunfire, boy!" No, my Dad never shot at me, but it was a different era for safety, though…kind of like the way that we drove everywhere without seat belts. Mom's impulsive arm flying across our chest was strong enough to hold us in the seat upon impact, I guess.
I am not, in any way, against hunting, though. I definitely do not want to give that impression. In fact, I know quite a few hunters, and certainly have enjoyed the fruits of others' past hunts. It's kind of like Forrest Gump in a way…I've had deer sausage, deer chili, deer jerky, etc. So I'm not against hunting at all, and even believe that the Bible condones it. (See, for example, Genesis 1:26; 9:3; 27:3)
Shortly after I started dating my future wife, I told her that for the most part, all guys are interested in one or more of the following things: hunting, fishing, cars, golf or sports. I am sure that some other activities could be added to the list now, such as fantasy sports, video games, etc., but at the time those five stood out to me. I told her that she was lucky, because I didn't hunt or fish, didn't know a thing about cars, and didn't play golf at all. However, I was absolutely in love with sports. (Disclaimer: I am now absolutely in love with golf, although the birth of two children has curtailed that love into more of a distant memory of a past crush.) I did not hunt, though, so she did not have to worry about the majority of my wardrobe being comprised of some combination of camouflage and fluorescent orange.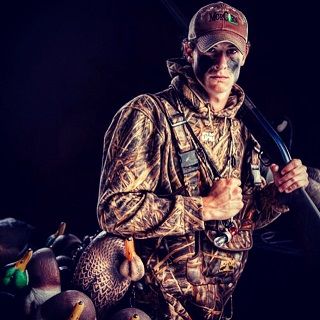 So why do I not hunt? I see all of the camo come out in full force this time of year. I see the Facebook posts of rabid hunters gearing up for whatever season is fast approaching. I see the pick-up trucks cruising the Walmart parking lot on Saturdays in November, tail gate down, with the day's kill spread out in all its glory on the tail gate. (I'm not fooled, by the way. I know you didn't really need to go to Walmart at that moment. You just wanted the whole town to know you killed a doe that morning after sitting quietly in your tree stand for four hours!)
I must confess that I don't really know the first thing about hunting. Yes, I can shoot a gun, and have an above average "eye," though entire boxes of clay pigeons have fallen safely intact to the ground when facing my aim. Maybe "above average eye" is giving myself too much credit. I'm talking more about the preparation that goes into hunting, though, the technique of enticing prey close enough to you to get off a shot. I'm talking about the rush that comes from the actual kill, the knowledge of how to haul a 250-pound buck a mile back to the truck, and what to do with it once I get there.
I also don't have the patience that seems to be required for hunting. Maybe I value my sleep too much to trudge through a darkened and freezing forest at three in the morning just to sit completely quiet and still in a tree stand until something shows up. Does that give a hunter an adrenaline rush? Is that what makes hunting so fun?
(On a side note, I have a friend who is a big-time hunter and fisherman back home in Indiana. He was one of the few people I knew growing up who hunted and fished regularly. At any rate, he once went deer hunting the morning after watching "The Blair Witch Project." Let's just say that it is possible for a grown man to be scared of his own shadow!)
I got the idea for this story from Shawn Wood, who is a senior at Bolivar High School. He is also a member of the Sunday School class I teach. Shawn didn't tell me that I should write the story, but it was hard not to notice how in to hunting he is.
Wood plays soccer for the Liberators, but you would never know it from his Facebook page, which is littered with various photos of him shooting his bow or making other preparations for the bow season that recently began. Shawn lives and breathes hunting, and that devotion and commitment to hunting from a high school athlete was intriguing to me.
I grew up in the big city of Indianapolis, Ind. Some may scoff at the notion of Indianapolis being a "big city," but believe it or not it's actually the 12th-largest city in the country by population. It is also the largest landlocked industrial city in the country, too, whatever that means. Basically, there are a lot of people living in Indianapolis, and I was one of them growing up.
As you might imagine, there were not a lot of places to hunt in downtown Indianapolis, or even in the suburbs where I lived. Other than the aforementioned "Blair Witch" friend, who was several years older than me, I did not have any friends who hunted. Maybe that's why I did not get into hunting? Was I simply a product of my environment?
I thought that Bolivar head girls basketball coach Darin Archer would disprove my theory about being a product of my environment. I knew that Coach Archer was a big hunter, and I also knew that he grew up in Brownsburg, Ind., which is basically a suburb of Indianapolis. We came from the same place, so it was possible for someone to grow up in the big city and still love hunting, right? Actually, Coach didn't start hunting until his freshman year of college at Southwest Baptist University in Bolivar, where he was a four-year star on the hardwood for the Bearcats.
"I did not hunt growing up in Brownsburg," said Coach Archer. "The first time I shot a rifle was my freshman year in college. My mother did not allow guns in our house, so needless to say, my first hunting experience came when I moved to Southwest Missouri. I did not grow up here, but by living here for the past 30 years, hunting seasons are like holidays at our house. It is a family tradition that I am proud to have started with my family and I am certain that they will pass down that tradition to their children as well."
The hunting bug has definitely bitten Archer, and based on his last name, it makes sense that his choice of weapon is his bow. In fact, the hunting bug has bitten his entire family. Archer's four children were all born and raised in Bolivar. All are now avid hunters.
"I enjoy being in the outdoors, whether it be hunting or fishing," said Archer. "It also allows me to spend time with my children. They are all older (my youngest is 21), so we do not get to spend as much time together as we used to, but hunting season will always be a time that we know we will be together, doing something we love as a family. Any day I can be in the woods or on the lake is a perfect day of hunting or fishing for me. It is even more perfect when I am sharing the day with my children."
It certainly seems that in this region of the country, non-hunters are in the minority. I have been surprised by the number of young hunters who also compete in a fall sport, in addition to being a high school student. But they all have one thing in common—a deep love for hunting.
"It's hard to explain it," said Bolivar's Aron Samek of why he loves hunting so much. "It's unlike anything else. When you're sitting in a corn field with 1,000 mallards' wings whistling trying to get into your spread it's unreal. I have sat and watched tens of thousands of snow geese migrate into a lake for a few hours. It was almost never ending. Hunting is not something that you can just watch a video and know what is going on. It is something that creates friendships and memories that will last forever with your best friends."
One of Samek's best friends, Camden Burns (himself a fellow Liberator football player), concurs. This time of year, Samek and Burns spend as much time as possible duck hunting.
"Honestly for me it's just the camaraderie," said Burns, who has been hunting since he was a child. "I grew up on a farm and so hunting is just in the family and something every single person in the family does. We own a big farm in the little town of Blackjack, Mo., so I will bring all the guys out a lot of our weekends when hunting season has started. I really enjoy duck season and being out there with my friends just doing what we all love. Most people don't understand why we get up at three in the morning to go break ice or set up decoys in the cold temperatures, but it just never gets old really. The biggest thrill I get out of duck hunting is seeing a big group of ducks work your decoys and commit and come in…what duck hunters call the show. I also think I like hunting so much because it's a challenge. It's not always gonna work or go your way but when it does it makes up for all the times it didn't and provides you with memories that last a lifetime."
Duck hunting. I remember playing Duck Hunt growing up, but that was on Nintendo. I remember that annoying dog snickering at me every time I missed a shot. Of course, I am also familiar with modern-day duck hunting, or at least the "Duck Dynasty" version of things. I love the Robertsons and the TV show, so does that get me any street cred with any real hunters? No?
It's not just Bolivar kids that are spending their spare time hunting either. I live in Bolivar, so I am familiar with the fact that most of the town hunts, including the kids. But there are towns like Bolivar spread throughout the Ozarks that are filled with young hunters who look to spend every free moment this time of year with a bow or gun aimed at some form of wildlife. Take Marionville, for example.
"I get to hunt at least two days a week," said Marionville's Rane Bateman, who plays tight end and cornerback for the state-ranked Comets, and basketball in the winter. "Those two days are Saturday and Sunday, but I do push in some time after practices each day. Even if that time is just an hour I like to get as much time in as possible. I play football and basketball and both of those sport seasons are right in the core of hunting season, so I don't get as much time as some people do because I have practice every day and games. Hunting and sitting in the woods is relaxing and keeps your mind off stuff, so it definitely makes my life more peaceful."
I have also been amazed at the number of women who grew up hunting here in the Ozarks, and of the young girls who are already getting hooked on hunting. Wheatland softball player, Gracie Fatino, is an example. She has been hunting for the past seven years. She hunts every chance she gets, regardless of the day, primarily for deer, turkey and hogs.
"I love hunting because it gets my mind off of stuff," said Fatino. "I get an adrenaline rush when a buck walks out in a field. I hunt whenever I can, any day of the week."
For Crane's Shelby Roder, who has been hunting since age 10, hunting is in her blood. That seems to be a common theme with the young hunters I've had a chance to interview. It's something that runs in the family…a family tradition if you will.
"I love it because it's something I do with my dad, brother and grandpa," said Roder, who is a member of Crane's basketball juggernaut and also plays volleyball for the Lady Pirates. "It's one thing we all love to do and we compete on who's gonna kill the biggest buck. The perfect hunting day would be a nice and cool morning where the deer are moving, and then killing a 12-point buck, but only because I would beat my brother."
Judging from the number of "shout outs" on Twitter and the albums of hunting photos she sent me, Bolivar's Macy Hall shouldn't have time for both hunting and sports. However, the Lady Liberator finds time to compete in tennis and basketball at Bolivar. But if she's not on a court, you'll probably find her in the woods somewhere in Polk County.
"I love hunting, just as others love their sports," said Hall, who has been hunting for the past 10 years. "It's a hobby and I really enjoy the memories that come with it. The biggest thrill or adrenaline rush would have to be when you've watched a great buck on camera all season and you finally get the opportunity to see him in person and, even better, have a chance to kill him."
To me as a diehard sports fan, "seeing a great (B)uck on camera all season" would refer to Joe Buck calling NFL games on Fox…but I don't think I would want to kill him if I got the opportunity to meet him in person! This concept of "filming" deer and potential hunting sites was new to me. I just assumed you woke up early, put your camo on, grabbed the shotgun and hit the trail into the woods. You mean you actually have to prepare to hunt?
"There is a lot of scouting that comes with duck hunting," said Burns. "A lot of driving to find where the ducks are, what kind of patterns or tendencies they are having, and finding that spot you know will provide you a good hunt. Another thing is decoys. Duck and goose hunting is really expensive, especially if you go do the field hunts a lot which we do. So we go to Bass Pro to try to find good deals on decoys during summer and early fall.
"My main thing is sleep patterns," added Burns. "For me, getting up that early is hard enough as is but then trying to make it through a school day and to be really focused in practice can be tricky. So we're just choosy on the days we wake up early. Usually never on a game day."
Usually, Coach Roweton…usually.
"I'll get my gun and bow sighted in, hang out my clothes, get the cameras out, and maybe some salt licks," said Fatino of her preparations for hunting season. "When I don't have games or practice, I'm constantly shooting."
"Often times, we put out food plots a month or so in advance to hunting season," said Hall. "We also go through and check and make sure all of our stands are still sturdy. We also cut brush out of trails and even cut limbs around the stands for shooting lanes. We also put up trail cameras, to see what bucks are around. A week or two before firearms season, we take the guns out and make sure they are still sighted in and everything works the way it should. I usually practice shooting my bow way more than just a few weeks before. Shooting a bow requires a lot of precision and accuracy. Since I'm playing a fall sport, practice takes up all of my evenings. Preparing for season is usually limited to the weekends. I don't expect too many conflicts. I can just only hunt or prepare on the weekends."
"Generally, we will use a few trail cameras to see what type of deer are on the property," said Archer. "We also put up stands prior to the start of the season. And usually every Sunday afternoon starting in mid-August is archery time at the Archer house prior to our family dinner."
As a basketball coach, Archer does not have any full-time coaching responsibilities in the fall, but everyone knows that basketball is a year round sport these days. Therefore, Archer uses his time wisely, and actually uses hunting to decompress from teaching and coaching.
"As far as preparation for the season, spending time in the woods can be twofold for me," said Archer. "I can use hunting to disconnect and decompress from basketball when I need to, or I have a lot of time to think about X's and O's while in the woods. I think that is why I enjoy deer season so much...it can be what I need that particular day from a coaching standpoint. During firearms season I hunt only on the weekends. My job as a teacher and a coach always comes first, but when the weekend arrives, you can just about bet the farm that I am going to be in the woods."
As a hunting novice, even I knew that there were different seasons for different types of wildlife. I knew deer season was in late-fall, usually in November around Thanksgiving. I knew there was a turkey season at some point, and I knew there were different seasons for bow hunting and firearms. That's about it.
Then I went to the Missouri Department of Conservation website (http://mdc.mo.gov/) to find out when the various seasons were on the calendar. After printing off 32 pages of different hunting seasons, I was blown away by the sheer number of different seasons—and by the various forms of wildlife that can be hunted.
I have eaten groundhog before (don't ask), but did not know there was an actual hunting season for it (May 11 to Dec. 15). I have also eaten plenty of crow (due to speaking when I should have been listening), but did not realize that said bird can be hunted from Nov. 1 to Mar. 3.
Hunting season for striped skunk and opossum runs from Nov. 15 to Jan. 31. Are there really people who hunt skunks and possum? Seems to me the only preparation needed for that would be to hang out on a country road and wait for the next car to take care of the hard part.
You can also hunt the common snipe from Sept. 1 to Dec. 19. I have been coaxed into going "snipe hunting" in the past, but it did not involve any weapons. Instead, I was given a burlap sack and told to go out in the dark and catch a "snipe." It was a hoax, of course (Google it), and until I visited the Missouri Department of Conservation website, I honestly did not know that a snipe was real.
"I most often hunt deer," said Hall. "I also enjoy turkey hunting. I'd love to kill a bobcat, but I have never gotten the opportunity."
"I hunt about everything there is, but during football season there is only deer, dove, and waterfowl seasons open that I do," said Burns.
Most hunters have their favorite hunting season, or at least a favorite time of year to hunt. Sometimes, extracurricular activities (and even part-time jobs) can interfere with hunting season. That's when the time management skills come in handy.
"There will be a few conflicts as some seasons approach with practice after school and maybe wanting to get an evening hunt in," said Samek, who said he tries to hunt two to three times per week depending on the season. "I hunt as much as I can while keeping my academics up and staying sharp during sports seasons. We have a lot of baseball games and that is during turkey season. Football is during early goose, teal, and North/Middle zone duck. Also deer season is towards the end of football. Last year, I worked at the movie theater but I quit because I could not hunt as much as I wanted, and I was not liking being indoors all the time."
"Right now is dove season," said Burns. "It started on Sept. 1 and goes for a while. Opening day this year was on a Tuesday, so since we cannot go after school because of practice, Aaron Samek and I just decided to be late for class that morning and head out to the fields in Aldrich. Thursdays we have walkthroughs so we get out early, so we hustle out of practice to get to the fields to have as much time as the sun allows. Wednesday morning Bolivar has late start, so we don't start school until nine, so we are always out and about on a Wednesday morning chasing birds. Deer season starts Nov. 13 usually, which is a weekend, so we just hunt the weekends for deer. Waterfowl, which is personally Aaron's and my favorite season by far, starts Nov. 24 for Bolivar, but we will usually head up north on weekends to get in earlier hunts because they start sooner up there."
"I live on a farm and have three head of cows of my own," said Roder of her other non-extracurricular obligations. "Plus, we have a golden retriever dog kennel. I prioritize whatever sport I'm playing, and I won't go hunting on mornings that I have a game or practice. Playing a sport and hunting during the same season can be both stressful and peaceful. I love how peaceful hunting is, so that helps a lot. I enjoy doing both things."
"I prioritize sports more because I can't skip a football game or practice to go hunting, so sports definitely come first," said Bateman. "But I do find a way to incorporate hunting in there."
"I primarily hunt on Saturdays, and sometimes sneak a hunt in on Sunday mornings before church," said Hall. "Last year, I scheduled an online class in the morning block of my spring semester so I could turkey hunt longer. I also use late start Wednesdays to get a hunt in the middle of the week, too. This year, I have also scheduled an online class in the morning block of my schedule all year, planning to use some of them to hunt. I'd rather hunt in the winter. Mainly after the first frost, which kills all the ticks and mosquitoes. Usually hunting is better in the winter…for me anyways.
"Sometimes, before Daylight Savings, if tennis practice gets done early enough, I have enough time to rush home and get to the stand," added Hall, who said she hunts 2-3 times per week during her sports seasons (and four times if she's lucky). "If not, mornings are when I hunt. Usually with basketball there are no evenings to hunt, so come basketball season my hunts are limited to mornings and weekends only."
"I'm always doing hay with my cousin, Weston, which is basically a part-time job," said Bateman. "But that doesn't get in the way as much as a regular job would. After Daylight Savings starts, it gets a little harder to squeeze in that time after practice to get to the stand, but I always go on the weekends. I would much rather hunt in the fall, because about mid-fall is when the 'rut' comes on that's in the fall and that is by far the best time to hunt."
Admittedly, I had to look up what Bateman was referring to when he said the "rut" comes on. For the uneducated, a "rut" is the period of time when bucks are chasing does for breeding purposes, which kind of gives new meaning to the phrase "stuck in a rut."
Another big hunting myth that has been dispelled for me is that hunting usually does not involve going out and sitting in a tree stand for hours by yourself. In fact, it seems that hunting is usually done in pairs or groups.
"I usually hunt with the same people every time," said Burns, who primarily hunts in Stockton, Schell City, Nevada, and most of all Bolivar. "We always go out together during duck season every day together. Aaron Samek, Jackson Abdon, J.D. Murders, and my dad."
"My dad rents quite a bit of land here around my house and that is where I hunt," said Hall. "I usually hunt with my dad, or Steve Criner, or Drew (Legan, her boyfriend and a former All-State football player at Bolivar)."
Steve Criner is the World Predator Calling Champion. I'm not sure what that means, but it sounds really cool. I had never heard of Criner before writing this article, but he is the star of the TV show "Dog Soldier," which has appeared on The Sportsman Channel. A graduate of Buffalo High School, Criner now lives in Wyoming full-time.
Here's how the show's website describes its host: "For this fella, an extreme sport was seeing how extremely close he could come to an animal with sharp teeth and an appetite for blood. With years of trusting instincts and studying his quarry with due diligence, a soldier rose up to the top of the food chain, he is the Dog Soldier, he is Steve Criner." Umm…that's pretty awesome!
Hall, who is also really into photography and videography, got the opportunity of a lifetime recently when she was asked by Criner to do some work for the show. "Although I am a hunter myself, I love to take photo and video of hunts," explained Hall. "Steve had asked me to film an early season bow hunt for him. This was an awesome experience for me and the video made it on his show."
Hunting is more than just sitting quietly for hours on end waiting for something to come into sight or range. Some even cherish the "alone" time. It can be an opportunity to unwind and forget about the struggles of daily life.
"It's something you get used to," said Hall of the time spent alone in a tree stand. "When I was younger and first started hunting, the time sitting there in the stand seemed like years. As I have gotten older, I enjoy the peaceful times in the stand. I often just sit back and relax. I have been a student-athlete my whole life. I'm used to the load of practice, game days, and homework on top of that. Adding hunting in the mix can make it more stressful, but also more peaceful. Sometimes when I'm really stressed with school, I enjoy hunting. It lets me forget about everything I need to do, and just sit there and relax for a few hours."
"I value the alone time," said Archer. "As a coach, you are on the clock 24-7, especially during the season. I am very lucky because my players and parents understand that I am going to give them 110 percent in every aspect as a coach, but when I am at the lake or in the woods, they respect that part of my life as 'me' time. I have very little 'me' time in my life and what little I do have, I choose to spend it in the outdoors. Hunting is not for everyone, but for me it is a time where I can step out from underneath the many 'hats' I wear as a teacher and a coach and enjoy my 'alone' time."
"My favorite thing about hunting is I make my brother, or my dad, or my grandpa, or whoever I'm hunting with watch for deer while I sometimes take a nap," said Roder.
Roder seems to be my kind of hunter. That may be the single biggest reason I do not hunt—lack of sleep. Whether it's a schedule or time issue or maybe the wildlife are out and about early in the morning, it seems that to be a good hunter you have to devalue sleep and be agreeable to getting out of bed before the sun rises. However, I have my own motto: if it's still dark when I wake up, then it's time to go back to bed.
"Waking up that early to do something I love alerts me and gets me up," said Bateman. "I don't get tired when I'm waking up early to go hunting because I love it."
"If I'm too tired, I don't hunt that morning," said Hall. "It gets me up and going in the mornings, and sometimes I even think it helps."
For the student-athletes who also love to hunt, it would seem that making one activity a priority would be to the detriment of the other. However, today's student-hunter knows that the books and the sports come first.
"Hunting lasts a lifetime, but sports are only temporary, so I usually try to put sports first," said Burns.
"I usually find myself wanting to hunt more, but I won't ever be able to play high school sports again, so I try to focus on that more," said Samek, who advised me to follow "BearCreek Waterfowl" on Instagram and Twitter.
"I get jealous of my dad when there is a really good day of hunting and I'm stuck in school or practice," said Hall. "But then again, I can hunt my whole life, sports only last while you're in high school, and potentially college if that's something you decide to pursue. I guess you could say I prioritize my sports more than hunting. I never miss a practice to go hunting, although if practice is even cancelled or gets out early, I take that time to go hunting."
All athletes have some concept of a perfect game. In most cases, it's a highly subjective term. While a perfect game can be thrown by a pitcher in baseball, a golfer can always think of a stroke or two (or more) that he or she left on the course. A basketball player can be perfect from the floor, meaning they do not miss a shot, but could they have played better defense? Could they have done even more for their team? You get the idea. What about hunting, though? Is there a perfect hunt?
"My perfect day of hunting is when it is snowing, cold enough for the ponds to freeze over and the snow to stick and I have to layer up," said Burns. "This is the weather where we get some of our best duck hunts."
"A perfect day of hunting to me would be a very cool day," said Hall. "Most likely with rain or snow coming in later in the day. Changing in the weather usually gets the deer moving."
So that tells me a couple things about a perfect day of hunting. First, it's also very subjective, and just being in the great outdoors doing something you love is the key thing. Secondly, it seems that a perfect day of hunting takes place when it's cold and snowy, which could be another reason I am not a hunter. Give me the sun and either an ocean or golf course (or better yet, a golf course built next to the ocean) and that would be the start of my perfect day.
Most people are a product of their environment. The young hunters in this area most likely grew up hunting, meaning that it was something that they did at an early age, and have continued to do into their teens. On the other hand, I grew up in the city where hunting was not something that people did. So, would these young hunters have loved hunting had they grown up somewhere other than the Ozarks, say a big city?
"I don't think I would," said Burns. "It's about influences really and without those people to influence you or take you and show you it's just not a part of your life I feel like."
"I don't think I would like it as much, but I would still like it," said Fatino.
"That I do not know," said Hall. "I grew up here in Bolivar where everyone knows when hunting season is. Around my house, a common opening morning would be my dad, uncle and cousins ready to head out to the woods. I do have to say, though, I think there would be less of a chance of me enjoying hunting as much as I do without growing up here."
Every hunter had a first day of hunting. The more you hunt, the better you get at it, which makes it pretty much like everything else. If I ever decide to go hunting for the first time, or at least for the first time with a gun in my hand and not as a de facto hunting dog, what should I do? Any advice for a first-timer?
"As a first time hunter if you were going with another person I would say to go off of what your friend is doing talking-wise, because there are some hunters that cannot stand talking at all during their hunts for some reason," said Burns. "I am not one of those. Unless it's an important moment in the hunt."
"Be quiet and move really slow," said Fatino.
So, first, I should shut up and not say anything…unless my hunting partner wants to have a conversation. Got it. And I shouldn't go running through the dark woods with a gun. That shouldn't be a problem.
"Be patient, nothing in hunting really ever comes fast," said Hall. "Unless you just get lucky."
"You have to have patience, because there may be days where you don't see any deer," said Roder, who does most of her hunting in McDowell near Purdy down in Barry County. "And to not give up!"
OK, so that may be the deal breaker. You mean there may be days that I get up early, go sit in the cold tree stand and still not shoot anything? I mean, I'm done fishing if I haven't caught anything in the first 10 minutes or so, so patience isn't exactly my forte.
"First, take the Missouri Hunter Safety Course offered by the state of Missouri," said Archer. "As a young adult getting into hunting, I originally thought it was a little overboard to have to take a safety course in order to hunt, but it ended up being a great learning experience for me. It is a great program and, as a father that has children that love to hunt, it is reassuring to me that they have been taught 'safety first' when it comes to firearms. Second, spend time shooting your bow or your firearms. As a hunter, there is no worse feeling than not getting a clean kill on an animal or wounding it to suffer a drawn-out death. Finally, get out in the woods and enjoy hunting not just for the sake of killing, but enjoying God's creations from a front row seat!"
I can certainly get behind the "Safety First" campaign. I do like to target shoot, too. But then I think about all of the lost sleep, the cold and snowy weather, and all the other things that have probably kept me from hunting before and wonder if I would ever become a good enough hunter to fall in love with it.
Maybe I should just stick to "scaring up" rabbits!